PSU Black Studies at Risk, Professor says
Administration called out for toxic environment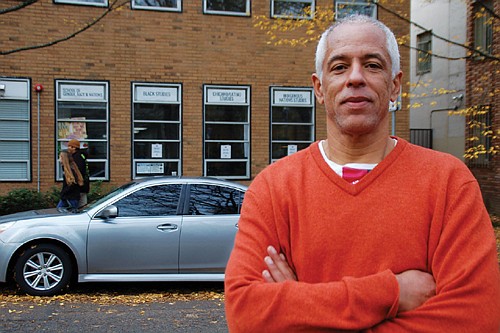 This school year is the 50th anniversary of the formation of the Black Studies Department at Portland State University, a momentous occasion for celebrating the formation of a degree curriculum devoted to the history, culture and politics of black people, but the African-American director of the department doesn't feel much like celebrating.
Ethan Johnson, who has served in the department for the past 15 years and who became chair of the department in September, says the university is failing to support the black studies curriculum and even more is failing to listen to the concerns of minority students and faculty at the school, a result that is disastrous to their wellbeing.
In a blistering four-page letter, Johnson accounts for the dismal support PSU gives his department and for black students on campus in general, from the arming of campus security with guns to not supporting black professors and administrators for hiring and promotion, issues he believes affects the health and even threatens the lives of black employees and students at PSU.
As an example, Johnson said that it was not long after the school's Board of Trustees, whom he referred to as "an unelected group of overwhelmingly white men" voted to form a campus police force, that Jason Washington, a black man, U.S. Veteran, postal worker and father of two, was killed by campus police on the edge of PSU campus. Johnson said virtually all faculty and students were opposed to arming PSU security.
Added to that danger, Johnson says, as shown in peer-reviewed articles, is that the stress of daily doses of racism affects overall health as it "gets into our bodies and overworks us, causing breakdowns in our hearts, reproductive systems and other areas."
Johnson said those are the more subtle ways racism affects black bodies, but said the violent death from gunfire at the hands of campus police and slow deaths from stress-causing racism are interconnected.
He cites the example of an outspoken PSU black professor who was denied tenure because, Johnson believes, he actively called out racism on campus and clashed with more conservative higher-ups. He died at 50 from a heart attack and Johnson wonders if the frustration of being one of the few voices speaking out against white supremacy and not getting the support of the university led to his early demise.
The school also has not correctly supported the Multicultural Center on campus, which promotes activities for non-white students, Johnson said.
He said the center's former coordinator, for example a person of color, expanded the center to better serve all minorities, even opening it up for Friday prayers for Muslim students. But several years ago, he said a white lesbian was hired to work on restructuring the program and the job was elevated to a director position.
The former black male coordinator was passed over for promotion to the new position despite his experience and success at "truly practicing equity," Johnson said. The man then died of a stroke in his early 60s, which Johnson attributes, at least in part, to stress he experienced with being treated unfairly by PSU.