I-84 Bridge to Connect Neighbors
Project gets kickoff with naming ceremony
11/20/2019, 3:59 p.m.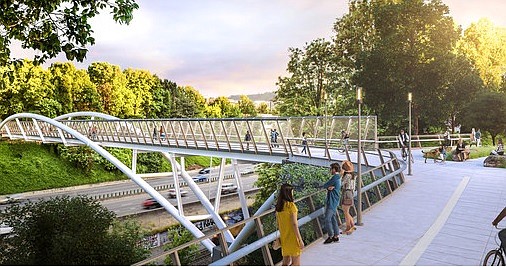 Neighborhood advocates, community members, and officials with the Portland Bureau of Transportation, joined U.S. Rep. Earl Blumenauer and Portland Commissioner Chloe Eudaly this month to break ground on the future Blumenauer Bicycle and Pedestrian Bridge over I-84 at Northeast Seventh Avenue.
The new bridge will be 475-feet long and 24-feet wide, spanning over seven lanes of I-84 traffic, two active railroad lines and Sullivan's Gulch.
Originally called "Sullivan's Crossing" during its design and development, the bridge was named the Congressman Earl Blumenauer Bicycle and Pedestrian Bridge by Transportation Commissioner Eudaly in May to honor the Congressman's steadfast, decades-long advocacy for cycling and pedestrian issues in Portland and across the country.
The new bridge will also be seismically resilient and serve as a backup route for emergency vehicles over I-84 in the event of an earthquake. In addition, the project includes two new public plazas and landings on the north and south sides of the bridge