In-school Grocery Feeds Families
Benefits go to entire neighborhood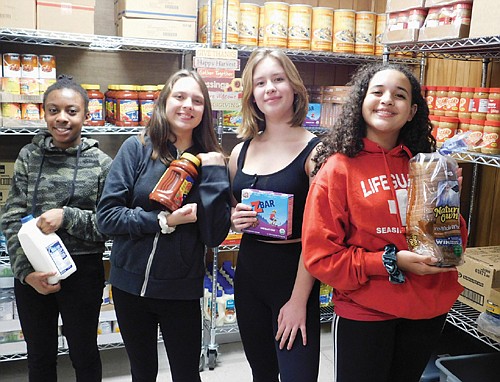 As the store opened, Olivo worked nonstop getting people registered, arranging products, answering questions and directing student volunteers.
In the past, the school has had backpack programs where kids can take home a backpack full of food at the end of the week, but even that had a certain stigma, which having a store helps remove, Olivo said.
"We don't want to call it a pantry, to take that stigma away, and we use Fred Meyer shopping bags," she said.
Dragon Mart opened during the first week of the school year, Olivo said, and is currently feeding about 20 families per week.
"That's not including the kids who come in during the week to get additional meals or food," she said. "The first day we had 15 students and families but the numbers are definitely growing, once word gets out."
Four Ockley Green students, Shamaya Daniels, Addyson Razo, Beatrice Pierson, Ilyarah Moteley, work as volunteers helping Dragon Mart customers like Kay Cyr, an elderly neighborhood resident shopping for Thanksgiving, find what they need, bag the groceries and carry them out.
Although Fred Meyer has worked with other schools to provide food for homeless students, Temple said the program at Okly Green is essentially a pilot program that could be start at other schools.
"We're looking to get proof concept and hopefully find other companies who want to get on board and keep these programs sustainable," he said.