Arrested for Northeast Portland Arson
Man accused of starting summer inferno
11/26/2019, 4 p.m.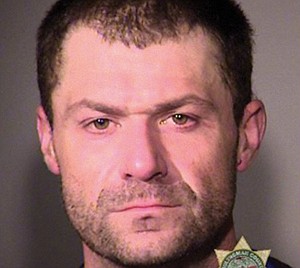 Police have arrested a Portland man, 39-year-old Allen Singerhouse, in connection with a major fire across from Madison High School near Northeast 85th Avenue and Siskiyou Street. The Aug. 26 inferno, which caused more than $2 million in damages, began as an out-of-control grass fire that covered four acres, burned down two businesses, damaged several townhomes and destroyed about 50 parked cars.
The arrest was announced Monday and police said they identified Singerhouse through several surveillance videos, including one near a dumpster fire that he allegedly set at Concordia University in northeast Portland on Sept. 1. He's also suspected of starting another dumpster fire that same day at a Michael's Craft store.
Police said Singerhouse denied his involvement at first, but according to the Oregonian, when confronted with the evidence, he admitted to lighting "dozens of fires around Portland."
After searching Singerhouse's home, police found clothing that matched what the suspect in the videos was wearing as well as two glass pipes suspected for meth use and multiple lighters with no lighter fluid.
Singerhouse has been charged with three counts of first-degree arson and is due back in court on Dec. 3.