New Approach to Homeless
City approves first Street Response Team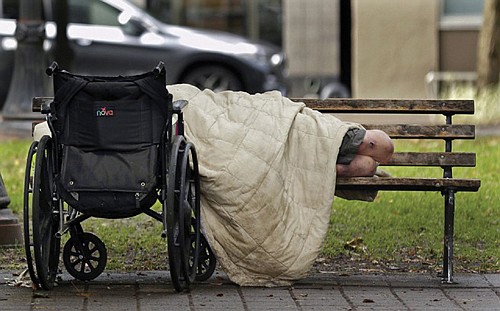 The city of Portland is trying a new approach to helping the city's homeless population by stressing compassion and crisis prevention with designated first responders instead of strictly law enforcement by police. The Portland City Council last week approved the plan advocated by City Commissioner Jo Ann Hardesty that outlines a pilot program called Portland Street Response.
A two-person team will form the first Street Response team and will respond to 911 calls in the Lents neighborhood of southeast Portland that don't involved weapons or use of violence, and will be qualified as trained crisis workers rather than police officers. Examples of non-emergency calls could be about someone lying in the street, people making excess noise in city parks or suspected drug use.
The council approved $500,000 in May for the pilot program, which is set to start next spring, also drawing support from Mayor Ted Wheeler.
"Historically, it's been up to the police to shoulder most of the responsibility as first responders in crisis calls, but in many cases, police are not the right resources to respond," Wheeler said.
Darren Golden of the Urban League of Portland told Oregon Public Broadcasting the new Street Response effort could help with the relationship between communities of color and the police.
"It's no secret that the black communities in Portland have deep-seated, well-earned mistrust with the Portland police and that is magnified for our black houseless neighbors," Golden said. "It's time for Portland, being the progressive city that it is, to stop taking active steps to criminalize poverty and instead adopt a public health approach to begin repairing our community."