In the Middle of a Fight
Candidate opposes former boss and code change push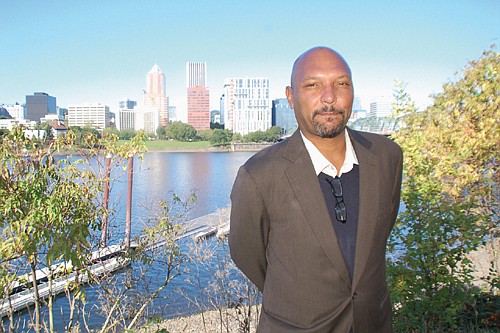 A proposed change to city code by City Commissioner Chloe Eudaly to lessen the power of neighborhood associations to better serve diverse and underserved populations has become a contentious issue. One of Eudaly's chief critics is her former employee, public policy consultant Mingus Mapps, who plans to run for her seat.
Eudaly fired Mapps last summer, unjustly he says, but that's not why he is running.
"I'm not running because of Chloe," he said. "I'm running because of what I think I can bring to the job. In terms of this specific process, no one, including the commissioner, is saying the process worked well and is right. So I don't think there's any debate that something is seriously off the rails here."
Mapps is a southeast Portland resident with deep community ties. He was the fourth member of his family to graduate from Reed College. He has a PhD in government from Cornell University and before work for the city of Portland he was employed by the Portland School District and Multnomah County.
Eudaly's push to change city code has advocates in Portland's communities of color, including leaders from the Latino Network, the Portland African American Leadership Forum, the Coalition of Communities of Color, Good in the Hood, COFA Alliance National Network, Diverse and Empowered Employees of Portland, and the Native American Youth and Family Center.
Joy Davis, executive director of the Portland African American Leadership Forum, stated her support for the reforms in a letter to the mayor and city council.
She described the benefits of a new inclusive process of decision making in Portland that "puts into the center communities that have been historically excluded and/or disproportionately impacted by decisions made in the past."
For more than a year, a 25-member volunteer committee has worked on provisions for revising the code surrounding the city's 94 neighborhood associations. In her online blog, Eudaly addressed a recent delay in presenting the proposal to the full city council after strong opposition by neighborhood associations, saying a new date of Nov. 14 has been designated for its approval which would allow the council more time to consider the changes and have a "public conversation" before the council votes on the final package.
But Mapps argues that there should have been more of a public process before now.
"Clearly residents feel like they haven't been heard and had a fair chance to participate in this discussion," he said. "I also worry and don't understand why the city isn't focusing on trying to strengthen neighborhood associations instead of taking a step away from them. I'm utterly mystified by that."
Mapps said the current process has missed opportunities to fix things in the code that are broken.
"For example, no one is happy with the grievance process for neighborhood associations and many neighborhood associations want to do creative new things, like partner with business associations that could be really exciting and innovative," he said. "But you can't do those because of restrictions placed in the current code. We should go in and change that so our neighborhood associations can reinvent themselves for the 21st century."