Campus Police to Keep Guns
PSU outlines decision; students call for boycott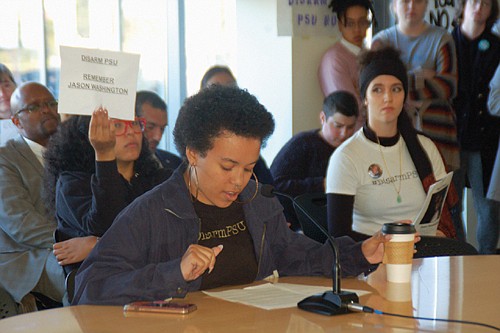 Pace then called for a boycott of the university.
"This decision is a declaration of war," she said. "You have declared war on your students and from this moment on we will use every fiber of our being to letting the world know: Do not come here."
As the meeting broke up, angry students yelled, "Shame! Shame! This is a board of hypocrites! No justice, no peace! Blood on your hands! Boycott PSU!"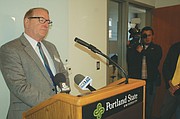 Members of the media then went to a small room where Percy answered questions about the decision to allow guns on campus. The first question concerned calls for a boycott.
"I'm very worried about that," Percy said. "I'm very sorry about the death of Jason Washington and what we're trying to do a lot here is create an inclusive campus that respects diversity. We think in this day and age that policing in a large urban campus is very complex and requires a lot of different approaches."
The plan calls for more transparency and strengthening of the University Public Safety Committee, continued use of firearms and body cameras by some officers, more training for officers, better building security (including electronic access pads), hiring four more unarmed officers, and better collaboration with mental health experts in responding to crisis situations.