Disarmed with a Hug
New video shows humanity of hero coach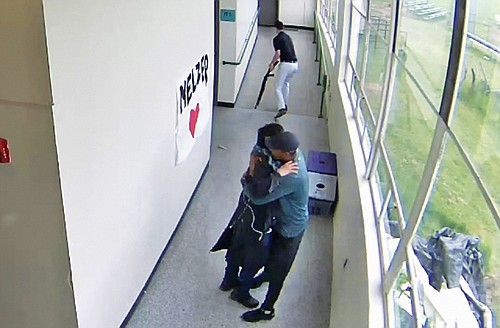 Before coming to Parkrose just a year ago, Lowe spent time coaching for the NFL, working first for the Philadelphia Eagles and then for the San Francisco 49ers, but the death of a close friend, who, like Granados-Diaz, had mental health and drug abuse problems, changed Lowe's life. Taylor Martinek was just 24 when he died of an accidental opioid overdose, and led Lowe to make the decision to come back home and try to make a difference in young people's lives.
Though he had no head coaching experience, Lowe was hired at Parkrose because he convinced the hiring committee that he really wanted to give back to his community.
"It's a small, forgotten school," Lowe told ESPN. "Not a lot of winning, not a lot of tradition, not a lot of great things from an athletic standpoint in the last 30 years. That's what attracted me to the place."
Drake Shelton, assistant principal at Parkrose who recruited Lowe for his job, said he'll never forget the moment he encountered Lowe after Granados-Diaz had been arrested.
"He looked at me, almost like he was in a football game, and he said, 'That's why you brought me here!' And he banged his hand against his chest. Me and him both do that to each other. It was one of those things, like he scored 10 touchdowns. Because he'd just been in the fight of his life."
Lowe's mother, Jen Lowe, said she knows that her son is at Parkrose for a good reason.
"A lot of times we don't know why we are where we are, but everything happens for a reason," she said. "It's amazing all of it happened and his life leading up to it prepared him for that specific moment. He acted. Instinctively, he acted."
Dominique "Domo" Forrest, who was best friends with Lowe and Taylor Martinek when they all played ball at Jesuit, said Lowe is a model human being.
"He's an example of what people should be doing," Forrest said. "People should want to go to the schools and help where they're needed the most. People should want to hug the kids who need the most love. Spread love and give love and save people and provide hope in environments like that. That's Keanon. His life prepared him for that, and is preparing him to do more."