For Healthy Moms and Babies
Advocates help women choose breastfeeding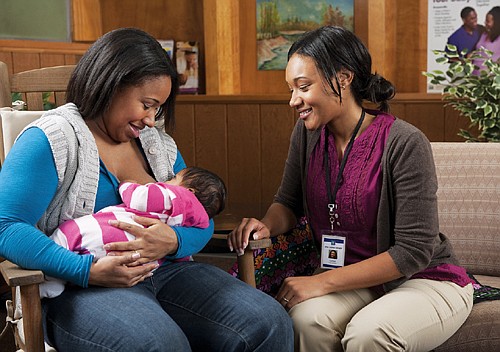 African-American women tend to breastfeed their babies less than other groups, but a local nonprofit and Multnomah County are working to see those numbers increase to help improve health outcomes.
Linda Bryant-Daaka of the Black Parent Initiative said her nonprofit has partnered with the county's Racial and Ethnic Approaches to Community Health (REACH) program to provide support for black breastfeeding mothers in the Portland area. They have collaborated on a new community effort, called the Sacred Roots Lactation Pilot Program, which began this month and hopes to increase the rate of breastfeeding among women of color.
New mothers are usually given advice on breastfeeding at the hospital, but some don't follow up because of cultural differences, Bryant-Daaka said. There are few black lactation experts in Portland except for her, she said, but she hopes to hire a recent graduate of Portland State University's lactation degree program to assist her who is also black.
"Hospitals have lactation on staff, but none are black, so some (new mothers) don't go back for their next assessment, so they are not consistently using these services," she said.
To bridge that gap, the Sacred Roots program is offering free home lactation visits for new moms, Bryant-Daaka said, a service that is usually expensive. Black Parent Initiative also offers doula services, she said, which is where most of her current clients come from, but she is hoping to get more referrals from hospitals in the future.
When she goes into a home, Bryant-Daaka can observe the mother breastfeeding and help her solve any problems, she said.
"We are trying to assess if the mom is having difficulty, has she breastfed before and what are her challenges?" she said. "We take an in depth history and ask about actual challenges the mom is having, then observe the actual feeding."
There are many reasons a mother can have trouble breastfeeding, she said.
"It's like a puzzle. You have the baby, the physical structure of the mom and the anatomy of the baby's mouth," she said. Sometimes a baby can be tongue-tied, she said, or there can be complications from infections, and many other problems that a lactation consultant can help solve.
Breastfeeding gives a baby better immune defenses, causes less stomach upset than formula, helps the mother's body heal faster, and even helps the child's IQ, among other advantages. Anyone interested in learning how to get involved in the Sacred Roots program can call Bryant-Daaka 503-430-9072.
Formed in 2006, it was through Black Parent Initiative's work in helping black families achieve financial, educational and spiritual success, that they discovered that there is a community need for more support with breastfeeding for black mothers and families.
"Breastfeeding benefits all of us now and into the future," Bryant-Daaka said. "We, the African-American and African immigrant community, have a lower breastfeeding rate among our people and also we know the benefits are far-reaching for the mother and the child."
One reason for the low rate of breastfeeding among blacks is lack of information, Bryant-Daaka said, and in the past there have been very few African-American lactation consultants, sometimes leading to cultural missteps.