For Healthy Moms and Babies
Advocates help women choose breastfeeding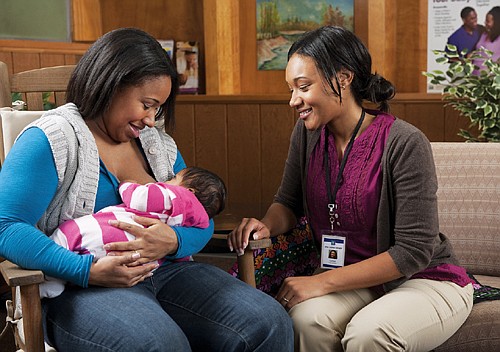 "A lot of times they have negative experiences, and a lot of times a lactation consultant is not a racial match," she said. That can lead to misunderstandings, she said. For example, many black women prefer several minutes of conversation before letting a health care provider touch their breasts.
"There's a cultural lack of understanding that is preventing moms from utilizing these services," she said.
Keara Rodela of the county's REACH program said the Sacred Roots program will help ensure family support for breastfeeding moms.
"Successful breastfeeding can happen when families have the support they need from everyone around them, including health care providers," she said.
"We want to look at how we can support moms with lactation support between the hospital and the community," she said. "They might get support in the hospital, but not always when they get home. We want to see how we can make a better connection between the hospital and when they get home."
Getting the program off the ground is phase one of the pilot project, Rodela said, and will lead to phase two.
"In phase two, one of the things we will look at is policy, with information and data we hope to collect from the pilot project and also with focuses on lactation professionals with moms and dads and what support looks like for them."
After making assessments, the program will be tweaked and policies set in place, she said.
"Our ultimate goal is to increase lactation and access to lactation consultants for black moms."