Reprieve on Earthquake Rules
City exchanges requirements for voluntary effort
10/29/2019, 3:04 p.m.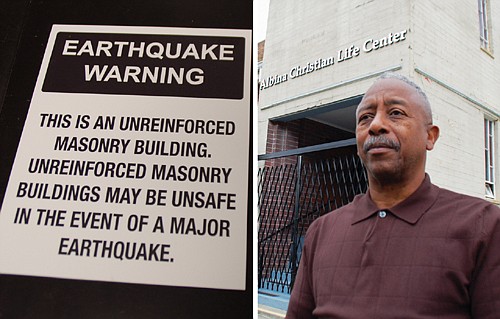 The Portland City Council has voted to remove mandatory requirements to post warning signs on unreinforced masonry buildings and require future upgrades to meet new earthquake safety standards. The decision is a win for some African American community church leaders and others who said the unintended consequences of such a measure would lead to more displacement of homes, business and nonprofit organizations.
Instead, city commissioners in the decision made Wednesday will allow the city to form a committee to develop a voluntary seismic retrofit program for buildings prone to partially or complete collapse during a major earthquake. The new effort will also focus on policy and financial options to help for-profit and non-profit unreinforced masonry building owners reduce the seismic dangers posed by their structures.
It follows the temporary suspension of the requirements from Portland City Commissioner Jo Ann Hardesty, who was elected as the first black female member of the council last year. A lawsuit against the city by business owners also sought to remove the new rules.
"As a long-time organizer and community leader, what I know is that all process is improved by listening to more voices," said Hardesty. "I am committed to continuing the conversation to improve Portland's resilience in the event a disaster strikes, and I am excited to see what suggestions this new unreinforced masonry building committee comes up with."
The hope is that the new voluntary requirements will resolve the litigation filed to stop the enforcement. The city will continue, however, to pursue a mandatory retrofit policy for public buildings, including schools, officials said.
Over 1,600 buildings made of brick and mortar or brick and plaster, called unreinforced masonry (URM) buildings exist in Portland, according to the city's website.
The new unreinforced masonry committee will consist of volunteers from a wide variety of backgrounds. Members will start meeting this fall and will be charged with presenting recommendations to the City Council within a year.