Teens Charged in St. John's Shooting
Arrests bring some relief to family of victim
10/29/2019, 2:34 p.m.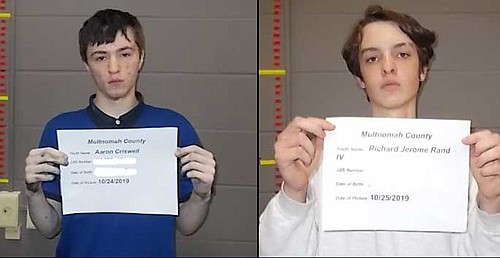 Three teenagers are facing murder charges in the death of Ricky Malone Sr., 65, a long time resident of Portland's black community who was killed with a shotgun blast to his chest while collecting cans for extra money on Oct. 14 on North Mohawk Avenue in St. Johns.
Police said the three young males, identified as Eugene Woodruff, 14, and Aaron Lewis Criswell and Richard Jerome Rand, both 15, are accused of confronting Malone, someone at least one of the boys knew from the neighborhood, in an attempt to steal his car which was idling nearby
When Malone refused to turn over his vehicle, Criswell allegedly shot him at close up range, according to court documents.
Just 15 minutes earlier, at about 3:45 a.m., the trio had reportedly tried to burglarize a nearby house on North Midway Avenue while Rand was dressed in a clowns mask, police said, but were chased away by the resident. Though Criswell and Rand are minors, under current Oregon law, at this point, both are being charged as adults under Ballot Measure 11, authorities said. All will appear in court again later this month.
Malone's body was discovered in the 10200 block of North Mohawk Avenue by John Phillips, who was driving his son to a Bible study class. The teens are accused of taking his car after the shooting and going on a ride that latest several hours, police said.
Surveillance cameras captured the suspects stopping at a Taco Bell for something to eat. Several hit-and-runs involving the stolen car, a Toyota Avalon, were also reported that morning. The car was found abandoned on North Hodge Avenue about two miles from where Malone was shot. A shotgun was also recovered the same day in some shrubbery along North Allegheny Avenue, not far from the crime scene.
Robert Malone, the victim's older brother, said they grew up in north Portland and both attended Roosevelt High. Ricky was a student athlete, his brother said, and later refereed at youth basketball games through Portland Parks & Recreation.
Having charges brought gives his family some relief, Robert Malone said.
"Our family is overjoyed that we now have at least a piece of closure," he was quoted in the Oregonian.
Ricky Malone reportedly enjoyed his habit of collecting bottles and cans to pick up a little extra cash and was planning to meet another family member at a redemption center later that day.
Robert Malone said he will be very missed.
"Ricky was just a quiet, good type of brother," he said. "He worked with the youth, he was a basketball official, a referee and the kids loved him."
Robert Malone also spoke in court about his brother's children and grandchildren and his strong ties to the St. Johns neighborhood.
"Not only did I lose a brother, I lost a best friend," he said.
Anyone with information on this incident is asked to Detective Travis Law at 503-823-0395, travis.law@portlandoregon.gov or Detective Todd Gradwahl at 503-823-0990, todd.gradwahl@potlandoregon.gov.