Road Trips of Cultural Connections
Ashland plays brings richness of Latinx experience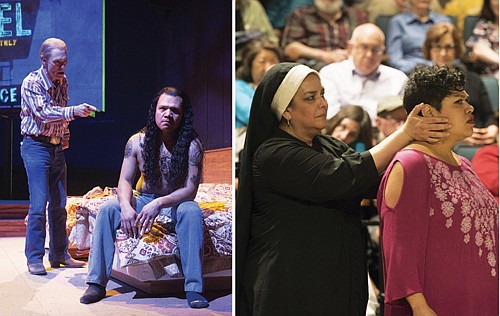 One diverse and largely Latin American cast performs two plays at the Oregon Shakespeare Festival this season, offering opportunities for them, and us, to explore the complexity and richness of Latinx experience. Both productions are world premieres with deep connections to classic work that did not originally seek to explore the experiences of people of color—and both productions, in their way, carry those classic stories into new and fertile territory. Most excitingly, one of them is a fully bilingual invitation to English- and Spanish-speaking audiences to be in community in a radical way.
"Mother Road" opened at the top of OSF's long-running season, the first Latinx play to be programmed in a season-long spot. The inspiration for the play came during a road trip commissioned by the Steinbeck National Center in preparation for a celebration of John Steinbeck's classic novel, "The Grapes of Wrath." In retracing the steps of the family in the novel along Route 66 from Oklahoma to California, playwright Octavio Solis began to notice the many connections between the white "Okie" migrants in Steinbeck's story and Mexican farmworkers then and now.
In "Mother Road," then, Solis conceives a journey from California back to Oklahoma. William Joad, an elderly cousin of Tom Joad (the protagonist of Steinbeck's novel), comes to California looking for his only remaining kin, Tom Joad's great-grandson, hoping to pass the family property in Oklahoma to him. It turns out that his last living relative, Martin Jodes, is a Mexican-American farmworker. Their road trip back to the family land in Oklahoma is filled with hardship and misunderstandings but ultimately helps them both see the many ways their experience and legacy are connected.
The play seeks to help audiences see these connections too. Although the final act solves the misunderstandings between the Anglo and Mexican characters a little too easily to be realistic, the metaphors of journey and solidarity still resonate. In the current environment of heightened racial antagonism and xenophobia, people are too often divided into literal and metaphorical camps that prevent us from seeing that we are related by blood and history. The play's journey along the "Mother Road" gives people of Mexican descent a place in American's typically bleached iconography and invites audiences to reflect on the thin lines that separate those deemed dangerous from those whose anger and suffering we collectively treat as important and shared.
The same talented cast gets a real workout in the fully bilingual "La Comedia of Errors," which is one of my very favorite plays in this strong season at OSF. It's an adaptation of Shakespeare's "The Comedy of Errors," a story of two sets of identical twins who are separated in childhood due to a storm and later encounter each other in an extended comedic depiction of mistaken identity. The production is being performed on one of OSF's stages, but also in a rehearsal space and out in the community. The community performances are part of an effort at relationship building, and are offered for free.