Portland NAACP Tackles Rising Racism
New webcasts to hold city accountable
9/4/2019, 11:29 a.m.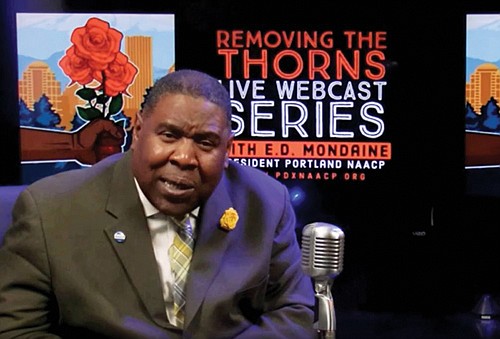 In a recently produced video, E.D. Mondaine, president of the Portland NAACP, declares, "We live in dangerous times."
In his new webcast, Mondaine said he's responding "to the rising tide of hatred and bigotry taking root in our communities like a virus." The segments will show live on YouTube at 10 a.m. on Fridays this month and the first week of October, and promote the NAACP's upcoming gala event "Removing the Thorns of Racism in the City of Roses" to be held at the Doubletree Hotel, Saturday, Oct. 5.
The six-part series came after a visit to a small, local studio in southeast Portland called The Studio at North Rim, where Mondaine met with Adam Klugman, the program director.
Klugman said he was proud to be working with the NAACP on the project. "What E.D. Mondaine wants to do is important. And he's a great host. It's going to be a really powerful show," he said.
Mondaine said he wants the show to be a stand we all take to hold our city accountable, "This is our moment to be heard. To demand Portland be a city where all people, of all colors, and all orientations, are safe, and free and loved."
To buy tickets for the upcoming NAACP gala, visit pdxnaacp.org.