Transitioning Self, Family and Community
Pilot program focuses on better futures for black women
9/4/2019, 8:48 a.m.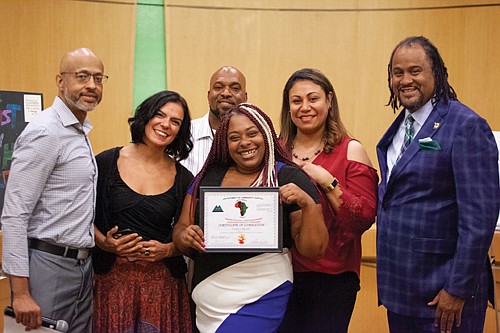 Candice Murphy always knew she had the intelligence and personality for success. After grade school in northeast Portland, Murphy left for California, where she finished high school at the top of her class in biology.
When she returned to her native Portland, she enrolled at Concorde Career College in pursuit of a career as a phlebotomist or medical assistant. At 21, she was a college graduate employed at a local dermatologist's office. She later worked at Legacy Emanuel Women's Clinic as a medical assistant.
But life began to spiral as Murphy made the wrong turns with the wrong people. For 17 years, she struggled with an on-and-off-again addiction to crack cocaine. That battle intersected — more than once — with the criminal justice system.
And, coming from a broken home, Murphy said, "I didn't have the skills to stop myself from spiraling. After I had my daughter, I settled down a bit. But I never really regained ground with addiction. Throughout the years, I had four children. I couldn't keep up with society. So instead of getting multiple jobs, I just stole."
At 36 years old, Murphy was in a fight with a relative's girlfriend. She was charged with assault and served more than two years in prison.
But last month, in a long-awaited personal milestone, Murphy took another step toward a different future. She joined seven others in the Multnomah County boardroom for the first ever graduation for women involved in a pilot program called HEAT (Habilitation, Empowerment, Accountability and Therapy) a curriculum tailored for black women involved in the justice system. It's facilitated by corrections counselors and parole and probation officers from the Multnomah County Department of Community Justice.
Murphy started the eight-month course while serving her sentence at Coffee Creek Correctional Facility. She completed it in the community after she was released from prison. The program is intentionally structured so that if a participant does not finish it inside the correctional facility, she can complete it in the community and have the support of her peers during community group sessions.
"People in the group can help each other get jobs and prevent isolation," said Travis Gamble, community justice manager for the Department of Community Justice and manager for the Department's African American Programs.

Each lesson touches on topics like myths and misconceptions of black women, messed up thinking, to examining emotional family wounds.
"The first person who did something wrong to me was my mother," Murphy said. "And I needed to communicate with her and I also needed to forgive her and move on."
She also was helped coming to terms with a father who wasn't there for her all the time while growing up. Like a lot of African American families, "We hide the deepest darkest things going on with us," she said.
The HEAT program originated as a curriculum for men to address the over-representation of African American men in the criminal justice system.
The course is divided into three sections on self, family and community. Time is built in for discussion and work sessions. The experience culminates in a graduation and remarks in front of family and friends.

The curriculum — which developers believe is the first culturally-specific and gender-specific of its kind — is a departure from the traditional role parole and probation officers have historically played.


"Now, we actually talk about trauma," said Gamble. "When I started if you talked about trauma you were making excuses for people's behavior. The problem with that is that you don't give people a platform to identify that behavior, own it and change it."
Murphy was released from prison in January. Each day presents its own challenges but she has two jobs, a support network and path forward.
"The HEAT curriculum brought up a lot of old wounds. You know how you fall down and hurt yourself and it's raw and there's a scab," she said. "The curriculum allowed me to let those wounds re-heal in a different way."
Thanks to Multnomah County Communications for contributing this story.