Pressing Apples to Fight Hunger
4th annual community cider program
9/6/2019, 11:02 a.m.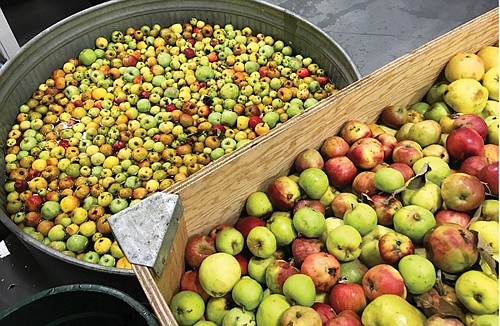 In a campaign to fight hunger, Portland Cider Company has kicked off its fourth annual community cider program which features a cider made with 100% recycled backyard apples and fruit from neighborhoods in the Portland area.
Donations of edible quality fallen and unwanted backyard apples or pears, as well as other fruits and berries, will be hand-press into a community cider with 100 percent of the net proceeds from cider sales to support the charity.
The donations can be made through Sept. 28, with drop-off at the Portland Cider Company's Clackamas Taproom + Cidery, located at 8925 S.E. Jannsen Rd, Bldg. F. Drop off hours are Monday through Saturday from 9 a.m. to 9 p.m.
For every bushel (40 pounds) of edible quality apples or pears––or for every 10 pounds of berries, plums and other fruits––donors will receive a voucher for a pint of Portland Cider while supplies last. Donors will also be invited to join in a hands-on experience of pressing apples into cider at a party on Sept. 28.
For more information, visit PortlandCider.com/drive.