Inspired in the Fight Against Cancer
Survivor shares story for upcoming Komen walk
9/10/2019, 6:59 a.m.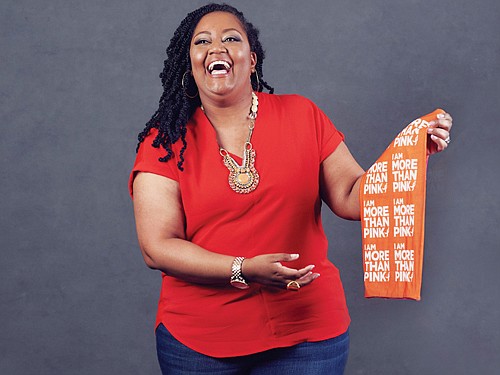 Tai Moore has survived two breast cancer diagnoses and says she wouldn't be here if not for being her own best advocate on health matters. But she also knows she needed the best medical care to fight the disease, something she sees many other black woman lack.
Many women in the African American community don't get the treatment they need to survive the disease, she says, and that's why Moore has been inspired to change outcomes for the better by getting out the word on breast cancer research and treatment options as a volunteer with the Susan G. Komen Oregon and Southwest Washington.
She will be out front and center and on stage to tell her story when thousands of other breast cancer survivors and supporters gather Sunday, Sept. 22 for the re-imagined Komen Race for the Cure, now the More Than Pink Walk, on the downtown Portland waterfront.
Moore's first fateful day with a cancer diagnosis came on July 18, 2011. At just 31 years old, she was told that she had stage 3 breast cancer. After 18 rounds of chemotherapy, a bilateral mastectomy and radiation therapy, she remained hopeful that her cancer would be gone for good; however, 6 years later, the hammer dropped: she was diagnosed with stage 4 metastatic breast cancer in her lungs. To say the news was hard on her family would be a colossal understatement. It's been a year and a half since Moore was given a 2-year life expectancy and to that she said, "No Way"
Moore acknowledges the presence of cancer in her life but continues to live like "[her] life isn't going to end, she explained in an interview with Komen leaders. She says cancer has been hard for her children to process; however, she makes sure they know how much they are loved, attends their activities to the best of her ability, and as they grow older and more curious about the disease, she incorporates their ideas into her routine and answers their questions.
Though optimistic about life in general and spreading that light to her family and others, Moore, a director of grants administration at George Fox College in Newberg, knows that at some point, each new care option will eventually stop working.
"It's that finality that's scary to think about," she admitted. "That there will be a time when treatment options run out, unless we find the cure[s]."
Moore's passion about spreading awareness as an African American woman is an important example for others to know they too can get treatment.
"Black women have a higher mortality rate when it comes to breast cancer, but we are often left out of the commercials, ads, [and] research opportunities," she stated.
Though many black women have not shared their breast cancer stories, she continues to share her own, in hopes that it will inspire and encourage these important conversations within the community.
In doing so, Moore wants to say "when I share my story, please don't feel sorry for me. Just listen, [take action], and don't give up!"
When the New More Than Pink celebration takes place on Sept. 22, participants will experience an all new ceremony, new colors and a renewed energy that is sure to leave the community feeling invested and inspired.
The evolution of the event is meant to better celebrate and honor survivors and forever fighters and highlight the importance of the 4 pillars of work Komen focuses on every day – Research, Care, Community and Action.
Action means advocating, educating, and empowering the community around breast cancer. Moore is taking action and is on a mission to touch as many lives as she can through her own journey.
Thanks to Susan G. Komen Oregon and Southwest Washington for contributing to this story.