A More Peaceful Holladay Park
Community celebrates reduction of crime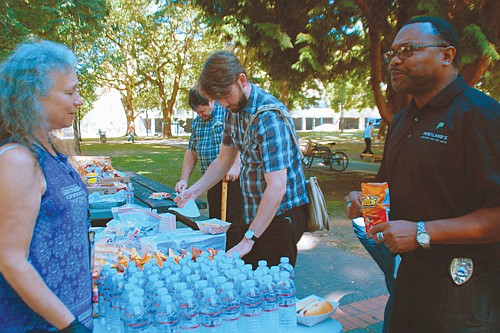 A small group of neighbors joined officers from the Portland Police Bureau and volunteers from several nonprofit agencies last week for hotdogs, snacks and snow cones at Holladay Park to celebrate a successful collaborative effort to reduce crime and questionable activity in the park which is bordered by Lloyd Center and a MAX Light Rail station.
Although Portland police came up with the idea, the Holladay Park Safety Plan relied heavily on community involvement, and more than a dozen nonprofits stepped up to help. They included Because People Matter, Vancouver Avenue First Baptist Church, SOLVE, Portland Parks & Recreation, Office of Youth Violence Prevention, Multnomah County District Attorney's Office, Portland OIC, Portland Public Schools, Transit Police Division, Bonneville Power Administration, Federal Protective Services, Portland Police Bureau, Providence Health Care, Connect, Church of Scientology, Portland'5 Centers for the Arts, Lloyd EcoDistrict, and Oregon Youth Authority.
Over the past few months, many groups have added events and activities in the park to strengthen its community use, and increased police patrols have helped protect the space as a public resource.
The results show a dramatic 50 percent decrease in 911 calls over the summer months compared with last year, along with a 44 percent decrease in thefts, 30 percent decrease in disturbance calls, 22 percent decrease in unwanted persons, and a 34 percent decrease in assaults.
The point of the safety campaign is to keep wholesome activities going in the park, said Capt. Anthony Passadore of Portland police. He said the model has been successful and he's working with security personnel in nearby Lloyd Center Mall to bring the effort indoors as well.
"It's community involvement to occupy spaces with positive activities," he said.
As he munched on chips and talked with volunteer Lisa Klein, who was handing out chips and other snacks, Ray Turner Jr. of Portland 5 Center for the Arts agreed that utilizing city parks is important.
"If we don't, someone else will," he said.
Serving snow cones for the celebration was Steve Dilworth of Because People Matter, leading a group of young people who have taken a snow cone machine and performed music at parks in Portland and Gresham that have been impacted by violence or higher crime rates.
Portland police and the mayor asked us to show up with our snow cones and music," he said. "Our people bring joy to the park and that lessens negative behavior."
Some groups, like Connect, simply walk the parks on a regular basis and others, like SOLVE, work to keep the parks clean. Park rangers have also ridden along with police officers on patrol.
Despite improvements, the news isn't all good. Although reports of assaults and disturbances have fallen since May, calls about stolen vehicles and collisions have increased.
Passadore said police are keeping a close eye on crime statistics as a team of one sergeant and four officers shift their focus not only to Holladay but to other hotspot parks in northeast Portland.
"Our goals is to measure our success, learn from it and create a long-term strategy," he said.