Resource Fair on Housing
Minority contractors co-sponsor Saturday event
9/10/2019, 4:22 p.m.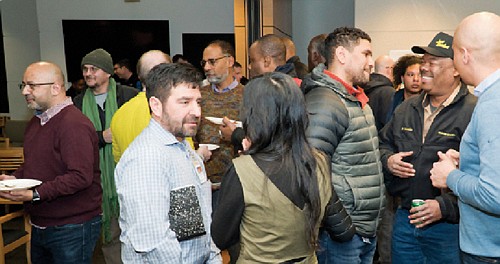 Minority contractors in Portland are encouraging current and future homeowners alike to benefit from a free Community Resource Fair to be held Saturday, Sept. 14 from 9 a.m. to noon at New Song Community Church, 2511 N.E. Martin Luther King Jr. Blvd.
Co-sponsored by the Oregon Chapter of the National Association of Minority Contractors, the Portland Housing Bureau and Energy Trust of Oregon, the event promises to be an opportunity for people to learn about programs and resources that are available to help them repair and weatherize their homes, save money on energy consumption, find affordable ways to buy a house, and even information on job and apprenticeship possibilities.
The resource fair is open to everyone but people of color are especially encouraged to attend to learn about minority contractors to work with, and minority contractors can also learn about opportunities through the Portland Housing Bureau.
You can also learn how home improvements can qualify for energy rebates as well as learn about other helpful programs, said Eddie Lincoln, program manager for the minority contractors.
The event will begin with breakfast, followed by a few introductions and will then break out into informational sessions and workshops for the final two hours.
The Community Energy Project will give a weatherization workshop on saving energy, and visitors can also learn about first-time homeowner programs, including counseling, down payment assistance and tax credit information.
"The Housing Bureau helps repair homes for health and safety and accessibility updates," Lincoln said. "This is a great opportunity for the community. There will be lots of tradespeople there to help show and demonstrate energy conserving methods."
Other groups participating in the fair include Constructing Hope, Hacienda, Oregon Tradeswomen, and Portland Community Reinvestment Initiatives, Inc. (PCRI). There is an Eventbrite link online for people to sign up to attend the fair for planning purposes. Visit https://www.eventbrite.com/e/2019-community-resource-fair-tickets-66736375295