Renter Rights in Focus
Alliance reaches out to explain new rules, regulations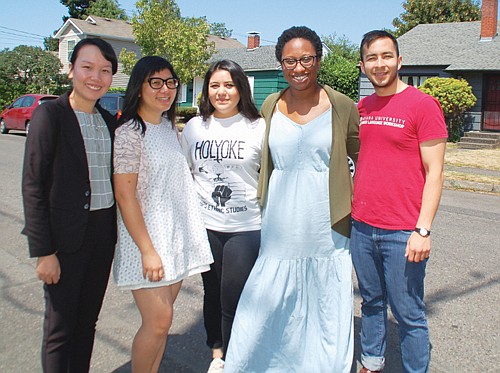 Tenant and landlord laws have undergone some dramatic changes both in Portland and statewide. To help navigate the recent changes, the Portland Observer sat down with Katrina Holland, executive director of Community Alliance of Tenants, a membership-driven organization focusing on tenant rights, housing education and advocacy.
Most of the new laws and regulations lean toward more protections for renters, both in the city and statewide, a "positive direction," according to Holland. One of the biggest changes in state law came with the passage of Senate Bill 608. The housing legislation put limits on rent increases and the use of no cause eviction notices.
"A tenant whose occupancy has been at least a year or longer will be protected from no cause terminations in the sense that a landlord will no longer be able to just say all right you're done…that won't exist anymore. Now they actually have to provide a reason," Holland said.
Valid reasons for eviction can now include a tenant violating a lease agreement, but for which a landlord is compelled to provide notice to the tenant each time that occurs, Holland added.
There are also new landlord-based causes for termination of a lease, which include the landlord intending to demolish or remove the unit from the market, plans for the landlord to move into it, or if a family member of the landlord is moving in. There could also be cause for termination of the lease if the property is determined to be uninhabitable, or a person who purchased the property from the landlord decides to move in.
A statewide rent increase limit for units was also put in place by the statewide measure. That amounts to no more than 7 percent plus the consumer price index, which this year is calculated by Oregon Department of Administrative Services to be 10.3 percent and is adjusted annually. Rental units that have received a certificate of occupancy within the last 15 years are exempt from the rent increase limitation.
Holland said her group and other renter advocates were hoping to see rent increases capped much lower.
"I don't know that I can afford a 10.3 percent increase every year. So hopefully we can come back to discuss that number in the future," Holland told the Portland Observer.
She added that the cap her organization sought for was closer to 5 percent and even considered that any increase in rent should be tied to federal cost of living adjustments, like for folks living on a fixed income when they get adjustments to Social Security or to a disability.
Holland also decried the provision that tenants, within their first year of occupying a rental, can still be subject to no cause evictions under statewide law, adding that the first year of tenancy for many Oregonians is when often when people are at their most vulnerable.
"You've paid thousands of dollars to move into this new unit and then within the first 12 months you could potentially lose that unit for no reason…that was a really hard pill to swallow," she said.