OLCC Urges Caution on Vape Pens
Cannabis retailers, vape pen users advised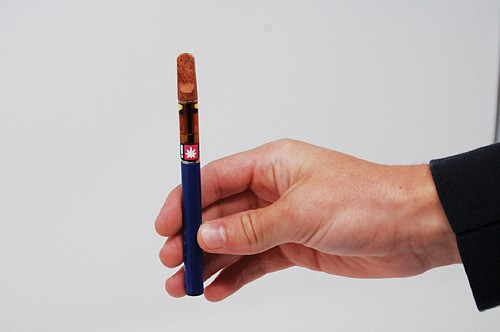 With a handful of recent deaths and hundreds of people becoming ill from using vape pens, Margo Amala, owner of Urban Farmacy, is taking no chances.
"We are scrutinizing every product on our shelves and asking clarification from each vendor as to what's exactly in their product," she said. "We're taking this pretty seriously."
That's exactly what the Oregon Liquor Control Commission, which oversees legal cannabis sales in the state, wants people to do.
OLCC Executive Director Steve Marks is asking processors and retailers to take voluntary steps to review vaping devices and cartridges that may contain additives.
Marks is asking licensed processors to report any previously undisclosed additives, including Vitamin E oil, tocopheryl acetate or alpha-tocopherol. Retailers are asked to review their vaping products and to check with manufacturers about ingredients.
Six people nationwide — including one in Oregon — have died of lung disease because of vaping either marijuana or tobacco, and more than 450 in 33 states have been diagnosed with illnesses related to vaping, with an average of 19 years old.
The Oregonian recently reported that Drs. Jason Wells and David Hotchkin of the Oregon Clinic warned that "vaping is dangerous" and suspected it was a factor in the death of the Oregon patient, whom they treated. They said the person who died was likely vaping cannabis oil that was bought at two legal cannabis stores, but they hadn't determined yet what the product was. Some experts have pointed to chemicals added as thickening agents such as vitamin E acetate, but not have named it directly.
Amala said vendors are also taking precautions and she has gotten letters and statements from many of them. She said, so far, she's only pulled one product off her shelves because of questionable additives. Some companies state they are only using straight cannabis oil with no additives for their vape pens, she said, while others state they are not using any thickening agents. Some just list "natural flavor" which is very undefined.
Last week Health and Human Services Secretary Alex Azar announced that the Federal Drug Administration is working on a policy to outlaw most flavored vape tobacco products. Oregon Sen. Ron Wyden also proposed a new nationwide e-cigarette tax, which would include e-cigarettes as a taxable nicotine product.