Fort Vancouver Honors African American History
Monument Inspired by Eagle Scout
9/18/2019, 5:56 a.m.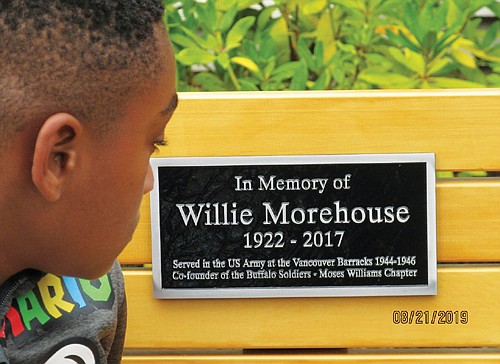 The first African American memorial in the city of Vancouver will be dedicated Saturday recognizing the historical contributions of black U.S. Army Buffalo Soldiers stationed at Fort Vancouver.
The memorial was the inspiration of Wilson Keller, a 17-year-old Eagle Scout who recently learned about the sacrifices and bravery of Buffalo Soldiers.
"It's so important to represent the entirety of our armed services history and the Buffalo Soldiers from the 24th and 25th Infantries who served honorably," Wilson said.
The National Park Service, the Historic Trust, the Buffalo Soldiers Moses Williams Chapter, the Community Military Appreciation Committee, Boy Scout Troop #648, as well as private and business donors assisted with the installation.
The public dedication will take place Saturday, Sept. 21 at 11 a.m. in front of the Infantry Barracks at the Fort Vancouver National Site. Buffalo Soldier veterans, including members of Willie Morehouse's family, a Buffalo Soldier who served in Vancouver will be guests of honor.
"We are proud of Wilson, his troop, and all of the partners who made this overdue memorial a reality," said David Pearson, Historic Trust chief executive officer and president. "The Buffalo Soldiers are an important part of U.S. history, as well as to this community,".