A Dream Achieved
Major housing complex to provide affordability, public services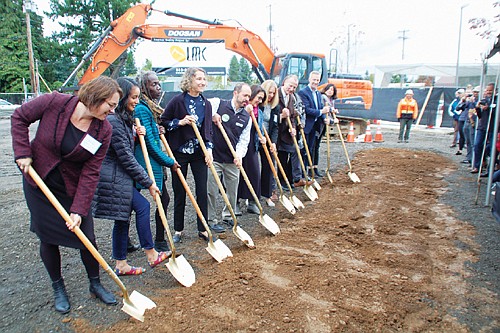 It's been five years in the making, with a lot of creative financing and multiple partners, but in about 18 months, northeast Portland will finally have a unique new addition to its much needed affordable housing stock, a 75-unit apartment complex in Gateway that also includes a new headquarters for low- income services.
Coming to 106th and Halsey, next door to the city's new Gateway Discovery Park, the building, named Halsey 106, will provide 52 apartments in the affordable range, available to incomes between 30 percent and 60 percent of the area median income, and also house Human Solutions, a nonprofit group that provides disadvantaged residents help to achieve self sufficiency.
Human Solutions currently has over 700 units of permanent affordable rental housing across east Portland, Gresham and Fairview and provides basic help like assistance to pay utility bills and comprehensive employment programs and homeless services.
Andy Miller, executive director of Human Solutions, said Friday's groundbreaking felt like the end, not the beginning, because getting to this point has been a long and arduous journey.
"It's the happy end of a period of uncertainty in which we had to answer some very hard questions, and like many groundbreakings, we're happy to say we were able to answer those questions in the affirmative or we wouldn't be here today," he said.
Funding for the $32.4 million project was the biggest hurdle, Miller said, which took some creative financing to pull together. Funding came from 13 different sources, including government, banks and nonprofits.
"So we combined a lot of complex funding sources that don't always play well together, in a way that could create the kind of space and the kind of assets that this community has wanted and needed," Miller said.
The goal, he said, was to build affordable homes so that "income would never be a barrier to a family looking out at this gorgeous park and saying, 'That's my backyard.' "
The new Human Solutions headquarters, which Miller said is sorely needed, will replace what he calls the agency's "humble" offices at Southeast Powell Boulevard and 122nd Avenue.
"We all are so looking forward to the day when our visitors, our clients, residents, volunteers, board and staff can walk through the door and see a beautiful space that will echo form its walls, soon to rise here," he said.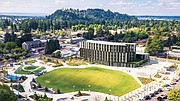 The building will also have 11,000 square feet of retail space on the ground floor which will be owned and managed by Prosper Portland, the city's economic development agency.
Human Solutions partnered with developer Gerding Edlen to develop the project, which was designed by Holst Architecture with LMC Construction as general contractor. Others closely involved with development include Gateway neighborhood stakeholders, Prosper Portland, Portland Housing Bureau and Portland Parks & Recreation.
Representatives of all those groups, plus Mayor Ted Wheeler and City Councilwoman Jo Ann Hardesty, were on hand for the groundbreaking to enthusiastically celebrate the launch of the project
About a dozen people gave brief speeches including Wheeler, who said Human Solutions has served the community well in its 31 years of existence.