Gresham Helps Most Vulnerable During Crisis
City contacts 3,000 elderly and disadvantaged residents
4/1/2020, 2:28 p.m.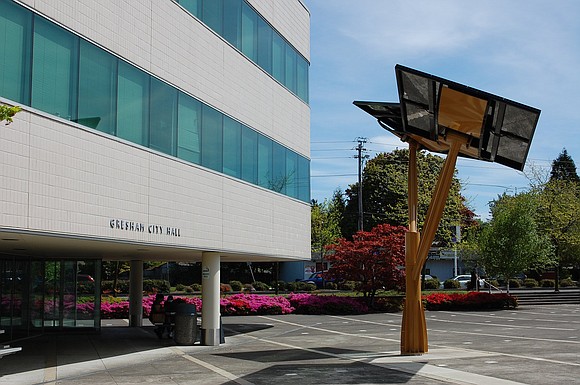 A husband and wife, both with heart conditions, who need toilet paper. A blind and deaf man struggling with what food he can eat. The city of Gresham says these are just a few examples from more than 3,000 residents who have been contacted through a campaign to help elderly and medically fragile residents during the coronavirus (COVID-19) pandemic.
Dubbed "Operation Gresham Connected," the humanitarian outreach in Multnomah County's second largest city is coming during Oregon's Stay at Home and Save Lives order to prevent the spread of the virus and during the state mandated closing of all non-essential businesses.
"During this time of isolation, it's more important than ever to stay connected and keep our community strong," Gresham Mayor Shane Bemis said Wednesday in a news release. "Our incredible team of public servants is ready and willing to go beyond to help our elderly and our immune-compromised residents get through this challenging time."
A team of 40 Gresham employees, whose normal work has been disrupted due to the spread of COVID-19, has been voluntarily making calls to check in with longtime utility account holders. The staff members connect residents with resources and in some instances act as couriers for critical deliveries of medication and food.
In addition, the employees are also reaching out to senior citizens and vulnerable community members referred to Gresham City Hall by local faith and nonprofit organizations.
In just one week, city workers called 2,500 residents to offer information, resources and supplies, officials said. Examples included a coordinated delivery of supplies and medication to an elderly colon cancer survivor, and the delivery of hand sanitizer and toilet paper to a couple with heart conditions, one of whom relies on an oxygen tank.
In another example, after talking with a resident who is blind, deaf and has diabetes and lives on his own, city staff joined with his caretaker to deliver toilet paper and food to him. Help was also found for an 80-year-old Holocaust survivor who needed to have her furnace repaired and get her electricity working.
"In this unprecedented time, it's nice to know the city cares," noted one resident. "I don't know of any other city showing this kind of concern for their people," said another resident.
Officials said city employees were quick to volunteer for Operation Gresham Connected, answering the call to serve within the first 48 hours after the program was announced.
"This is one of the most rewarding experiences of my life," said Tina Osterink, Gresham's Natural Resources Planner, who volunteers for the program. "I feel like we are making a real difference."
Community-based organizations, churches or neighborhood groups with directories of vulnerable residents can reach out to Operation Gresham Connected online at GreshamConnected@GreshamOregon.gov or call 503-618-2111.
The City's Emergency Operations Center remains activated while City Hall is closed to the public. City leadership continues to conduct core business and ensure that essential services are operational for the safety of the public. Regular updates to the community will be available on GreshamOregon.gov/COVID19 as well as the city's social media channels.