Getting Creative with Films to See Online
Two new independent films worth checking out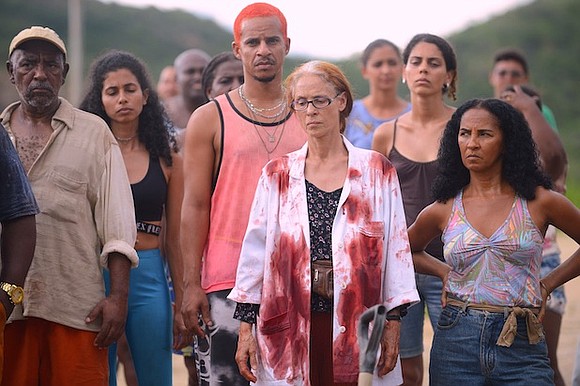 For those of us who love movies--in the theater, where all good films deserve to be seen--the closing of movie theaters during the pandemic is a heartbreaking loss. It's specifically difficult for independent films, which rely on film festivals and limited arthouse releases to be seen at all. Film festivals are being cancelled too (including Portland, Seattle and Full Frame, the three I attend and report on every year).

I am not expecting to be able to easily access all the films I would have caught at those festivals. But fortunately, some independent film distributers and theaters are beginning to get creative about online access to some films whose planned theatrical release has been thwarted while we are all confined to our homes. I've seen two this week that are especially worth checking out.
"Bacurau" is the latest from the great Brazilian writer-director Kleber Mendonça Filho, who also wrote and directed "Aquarius." This time out he shares writing and directing credit with Juliano Dornelles, his frequent production designer and collaborator, to create a genre-bending film about exploitation of marginalized communities.

Set in the northeast of Brazil known as the sertão, Brazil's outback, the story focuses on a small, close-knit community in a fictional town named Bacurau. The name is derived from the Portuguese name for a night hawk with excellent camouflage, and also the last stop on a bus route--fitting for this little town of underestimated people in a remote area to which enslaved Africans once escaped. It's a last stop for a diverse group of black and brown people who know how to lay low.
The film begins with the funeral of a beloved matriarch of the community, introducing an array of characters (including a compelling woman played by the great Sonia Braga--but also a host of actors who are lesser-known outside of Brazil and also many non-actors) and offering a flavor of the community itself. Then signs of danger begin to appear: The town appears to have been erased from GPS; a drone appears to be surveilling the town; bullet holes are found; and two mysterious strangers come riding through on motorcycles. What follows feels at times like a Western, a 1970's action movie, a thriller, a slasher film, a Brazilian "cangaço" story (tales of social banditry that were popular in Brazilian cinema in the 1950s and 1960s), and a political allegory that also features a mythical character named Lunga.

I'm sure I missed lots of cultural references that someone more versed in Brazilian culture would see (though the digging I have done so far has been fascinating). The Brazilian context is specific and also universal; the dynamics of exploitation and colonialization are much in evidence. We see a marginalized community that powerful forces (embodied by white people from the U.S. and Europe) attempts to exploit and erase for reasons that are never clear; we see a mayor who is in league with the powerful at the expense of the people; we see two Brazilians who are happy to sacrifice the community for money but are more expendable than they realize. In this film, the community has been underestimated; like the night hawk, they know how to hide, and like some who have survived unthinkable oppression, they know how to survive.