Young Activist Runs for Metro Council
Position has no incumbent in crowded field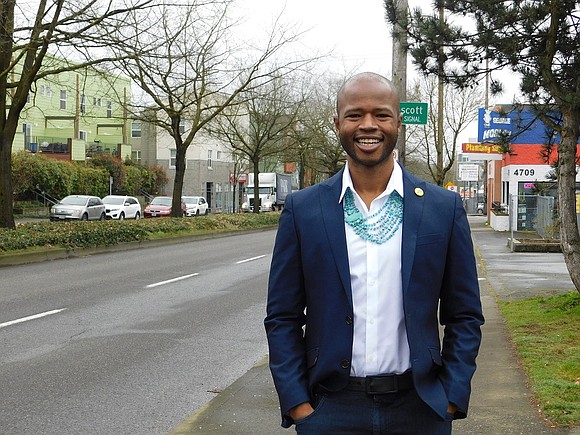 When Cameron Whitten moved to Portland at age 18, he had no place to live and no resources, but a local nonprofit with a long history of helping homeless youth took him in. Now he wants to give back and is running for the District 5 seat on the Portland Metro Council, a regional government serving Multnomah, Clackamas and Washington counties.
"I was a client at Outside Inn, I had access to mentors, to meals, to shelter, and I had advocates that helped me enroll in school and be successful," Whitten said, describing his experience with the organization and a concern that too many others, like he was 10 years ago, are still vulnerable.
"Our world is so broken right now, and I think the resources that currently exist do not adequately meet the needs we have," he said. "There are people who are extremely vulnerable with very intense challenge."
Whitten, in an interview with the Portland Observer early last month before the coronavirus pandemic caused a worldwide health crisis, said he felt lucky that he had been able to find successful employment and a career in public service. But while he credited the support he's had, he also pointed to his own hard work to make a productive life for himself.
To focus on his campaign for office, Whitten ended his tenure as executive director of the Q Center to devote the time necessary to win an election. Besides the Q Center which offers programs to support the LGBTQ+ community, Whitten has served as founder of the racial justice nonprofit Brown Hope, known for the Reparations Power Hour and Blackstreet Bakery. He also serves on the boards of Reach Community Development and Pioneer Courthouse Square.
A long time activist, Whitten led protests following the deaths of Trayvon Martin, Eric Gardner, Sandra Bland and other people of color, and in 2012 he staged a 56-day hunger strike in front of City Hall that focused attention on the suffering caused by the city's housing crisis.
On top of all that, in 2016 he earned his bachelor's degree in economics from Portland State University, and he is currently studying for his master's in business administration.
"I'm 28 and the impact I have made has been outsized to the number of years I've been on this planet," Whitten said. "But I think it speaks to my passion and opportunities that have happened."
Service to others is his life's calling, Whitten said, but his great passion is racial justice, and his initial encounter with racism was when he first got to Oregon.
"We were in Albany and went there to stay at my friend's dad's house, but after one night the dad asked us to leave because he was uncomfortable having a black man in his house," he said. "Coming from Virginia, where I never had experienced overt racism like that, it made no sense to me. I actually laughed at myself and said, 'What! There are racist people in Oregon?' Ten years later I no longer find it funny."