Ernie Warren Runs for Open Judge Seat
Portland lawyer has deep experience, community ties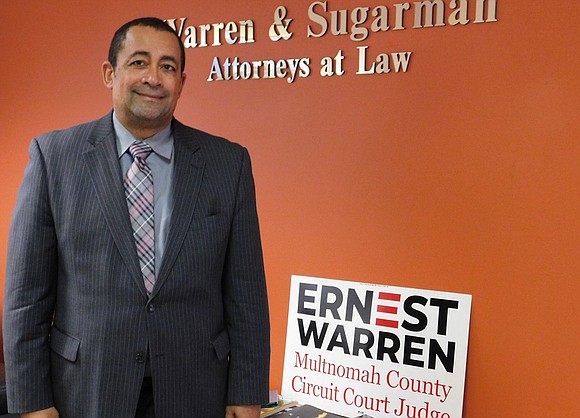 Ernest "Ernie" Warren Jr., a seasoned Portland lawyer, passionate civil and criminal defense attorney, and long time advocate for pursing justice issues, is asking voters to put him on the bench for an open seat on the Oregon Circuit Court for Multnomah County, one of six candidates running in Oregon's May 19 vote-by-mail election.
Warren has been a mainstay in Portland's African American community since his family migrated here from Texas in the 1930s and '40s.
The Warren clan came to Portland from Pleasant Hill, Texas after mechanization took their farming jobs, During World War II, employment at ESCO Corporation, today a global manufacturer of metal parts, provided economic opportunity. By the 1960s, there were more Warrens in Portland than back in Texas, and like other second and third generation members of the black community, they were employed in many different professions.
In an interview the Portland Observer, Warren told how his father, Ernest Warren Sr., was a successful insurance broker. But far from coddling his son, the senior Warren was insistent that his son learn the value of work. From the time he was just 9 years old, while other kids were playing summer sports, Warren Jr. was expected to work and work hard.
Warren said he remembers joining his grandfather at the time, who would pick him up before daybreak, to go pick whatever produce was in season on local farms.
"So I know what it's like to go out and pick berries and beans all summer long and have your hands all stained with dirt," he said.
Warren said the values he learned growing up in a big close knit family formed the basis for his lifelong involvement in the community. In 1990, he opened the first African American-owned law firm in the state with the goal of "being a resource to the community, serving the common good and steadfastly pursuing justice." He said he was inspired by the words of Martin Luther King Jr., "Injustice anywhere is a threat to justice everywhere."
"I'm running because I want to be a person who maintains justice and always do what is right," Warren said.
In his 31 years in practice serving a diverse clientele, Warren earned a reputation as a passionate attorney and successful trial lawyer. He has fought for affordable housing, for example, as a long time legal counsel for Portland Community Reinvestment Initiatives, Inc., the African American-led housing provider in north and northeast Portland.
Warren's history with PCRI goes back to its beginnings in the early 1990s when hundreds of Portland families were left in the lurch by an unscrupulous mortgage company which scammed unsuspecting families out of their homes.
Warren said the late Gretchen Kafoury, then a Portland City Council member, came to him and asked him to represent — for free — a new nonprofit to rescue those properties and help people get their homes back. The mortgage company was eventually exposed in the press and was convicted of racketeering and fraud.

"That was an easy yes," Warren said. Initially, he helped 49 out of 50 displaced people get their homes back, except for one owner who wanted to remain a tenant. He also helped PCRI acquire 300 other properties that had gone to default and rehabilitated them with help from the city through a community block grant.