Don't Shoot Founder Runs for Mayor
Activist stands out in field of 19 candidates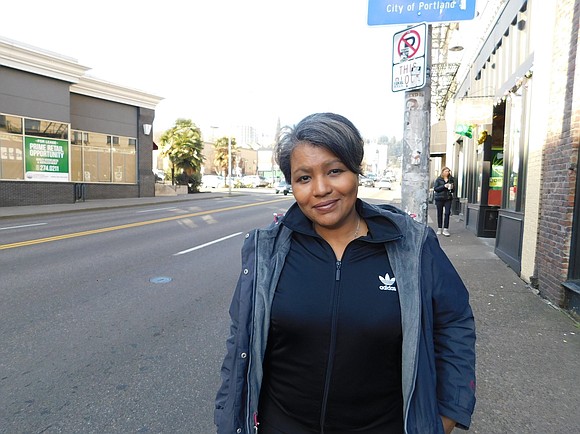 After Teressa Raiford's young nephew was killed by gun violence in 2010, she moved from Texas back to Portland, her hometown, and became a community activist to demand accountability for senseless gun deaths.
Raiford's activism led to an invitation to meet former First Lady Michelle Obama at the White House. It was 2013. After visiting with Mrs. Obama she followed up the following year with the creation of the nonprofit Don't Shoot Portland. By 2019, her organization was one of the top human and civil rights nonprofits in the city voted by a Willamette Week reader's poll.
Now Raiford is taking her activism a step further and is running for mayor of Portland, joining a crowded field of 19 candidates, including incumbent Mayor Ted Wheeler.
Raiford said she became disappointed with Wheeler, the former State Treasurer and Multnomah County Chair, soon after he took the reins of Portland's government, accusing him of isolating himself in office and creating an environment of distrust and dishonesty.
"We got somebody full of excuses that picked allies so that he wouldn't have to be accountable or responsive to community members," Raiford said.
"My priority is to communicate with communities, build civic participation and engage them on issues that matter to us, so that when outcomes happen people are part of the planning process," she said.
Raiford had a rough childhood growing up in northeast Portland. She and her siblings were in and out of often abusive foster and group homes until they were adopted by her grandmother, she said.
As an adult, she worked in low level jobs at Nordstrom's but moved to Dallas to get away from domestic violence, she said, and later found she had skills that were in demand at a major bank.
"I was in sales support, generating calls, and in six months I was the department manager," she said. "When they came in with a new banking system, I picked it up fast and moved on up into deregulated energy in business services."
After her unit was dissolved and she was laid off, Raiford went into business for herself.
"I started my own company called Genesis Mobile Tax, because I figured all this stuff they were teaching me I could use to help other people," she said.
Raiford said her entrepreneurial and problem-solving skills would serve Portland well if she is elected.
"I love Portland and I love all our children and want to give them opportunities," she said. "We haven't given everybody those opportunities and I want to be the leader that makes that happen."
The city is moving too fast creating "a globalized city of technology people," Raiford said. "But if we're building that city on top of our vulnerable community members, then we're creating a crisis that we're living in right now and it's only going to get worse."
Her concerns were expressed during an interview with the Portland Observer early last month, before the devastating losses of employment, the closing of schools, and public health crisis brought on by the coronavirus pandemic.