A Reckoning on Race
Sparks fly in role of allies in justice movement
Gillian Flaccus | 8/18/2020, 4:09 p.m.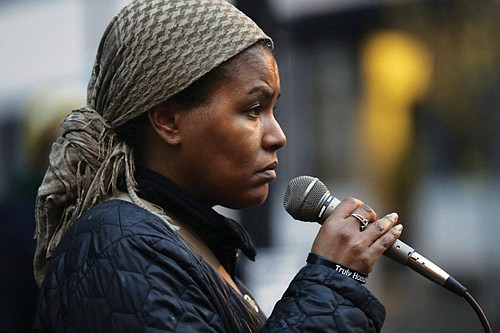 (AP) -- More than two months of intense protests in Portland have captured the world's attention and put a place that's less than 6% Black at the heart of the conversation about police brutality and systemic racism.
Since May, nightly demonstrations in Oregon's largest city have featured overwhelmingly white crowds — from middle-aged mothers marching arm in arm to the mayor getting tear-gassed by federal agents to teenagers dressed in black smashing police precinct windows and tossing fireworks at authorities.
The weeks of often-chaotic protests have transformed Portland into a microcosm of the national debate on race and police brutality. It's also prompted introspection about the role of white demonstrators in the Black Lives Matter movement and what it means to be a white ally in this transformational moment.
The violence and vandalism that have marked the protests, often done by white people, have divided the Black community, along with a debate over what's next. Some want to keep marching, while others want to use the momentum to work with elected officials on cementing long-term change.
"It's a perfect storm with everything that's been happening, and add to that the attention of the world being on Portland, Oregon, right now — we have a unique space," said Sam Thompson, who founded the group Black Men and Women United last month to push the movement toward long-term Black resilience.
"If those people weren't there and they weren't protesting to the level they are now, we wouldn't be having this conversation 2 1/2 months later," he said. As white people see the protests, "when the person that looks like you is breaking the windows and starting the fires, you deal with that a lot differently than when it's someone who doesn't look like you."
Portland's movement has carried a current of tension as the Black community and white protesters navigate a complex racial calculus: In one of the largest majority-white cities in America, how can white residents support Black rights without making themselves the story?
That's a delicate question in a progressive city with a deeply racist past. Portland, a focal point of the Black Lives Matter movement in part because of its bastion of white supporters, is so lacking in diversity because of centuries of laws that excluded and marginalized Black people.
Early "exclusion laws" prohibited Black people from settling in Oregon, and by the 1920s, Portland was known as one of the most segregated cities north of the Mason-Dixon line and a hotbed for the Ku Klux Klan. Later, real estate laws and city planning effectively crammed Black families in a few pockets of Portland. Today's soaring real estate prices have scattered those Black homeowners to the fringes of the city and beyond.
"We do not have an area that's ours, and that was intentional," Thompson said. "These are the things we're trying to work through."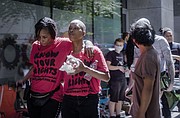 Because of that history, some Black people have felt a cognitive dissonance when they see the crowds of white supporters, many of them arriving from homes in neighborhoods that were once Black havens.