Recognizing Pearls Others Would Miss
Black women bring strength, vulnerability to film 'Ash Land'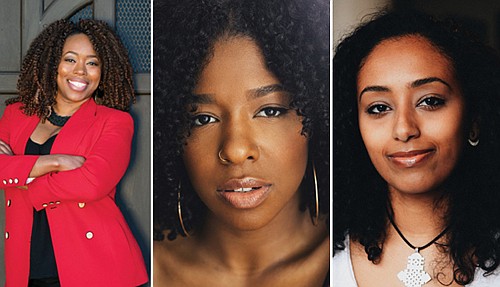 I'm not at all tempted to minimize the suffering of 2020, much of it wholly preventable and also disproportionately felt by communities of Black and indigenous people and people of color. But moments of crisis often contain gifts, ushered in by those souls who are creative and spiritually sensitive enough to find them. The new short film, "Ash Land," to premier on the Oregon Shakespeare Festival's digital platform this Friday, is just that sort of gift, in more ways than one.
It only makes sense that this particular film, the first for director Shariffa Ali, grew from conversations-during-pandemic-lockdown between its director, actors Kamilah Long and Cyndii Johnson, and screenwriter Banna Desta, all women of color. What they created--perhaps channeled is a better word--working with a majority BIPOC production team and crafted through a workshop process, reflects the sort of listening that is most possible among women of color, who may be best equipped recognize the pearls that others would miss.
The film engages a meditation examination of a particular woman's experience of transformation. The depth of this depiction owes much to a generous gift of unusual authenticity from Long, who appears as a woman living alone in rural southern Oregon (the credits call her only "She"). With every gesture, breath, and movement, Long conveys sorrow and suffering that have in some ways disassembled her. "She" then experiences a visitation from a younger woman (Johnson, denoted as "Her"). Their interaction embodies the stuff of awakening, a moment of recovery and reclamation for "She" in connection with "Her."
It feels important that this transformation occurs in rural southern Oregon, site of Oregon's original Black exclusion laws and a Ku Klux Klan stronghold well into the 20th century. "She" is planted here, alone and not alone. The trees, the water, the rocks, the bees--we experience them speaking to her in every frame. And both women communicate as much with their bodies as with their words--Long embodies anger, struggle, anguish, resolution, reembodiment; Johnson captures hope, playfulness, tenderness, and curiosity that the older woman has forgotten how to embody.
The film was produced as part of Oregon Shakespeare Festival's ongoing commitment to supporting artists during the pandemic. Ali directed the world premiere of "The Copper Children," which opened and then quickly closed at the beginning of the pandemic (I reviewed its digital release here: portlandobserver.com/news/2020/jul/13/powerful-screening-move-body-and-heart/) and ended up delaying her return to New York when OSF offer a residency with O!, its digital platform. Desta's screenplay, likewise, was part of OSF's new commissioning initiative. Both Ali and Desta have roots in east Africa, and OSF's investment in all these artists of color contains signs of hope for a future OSF rising from the ashes of this pandemic under the visionary artistic leadership of Nataki Garrett.
How fitting that the project these BIPOC women and their collaborators (including producer Adrian Alea) created offers such a resonant meditation on a Black woman's spiritual transformation. I was struck while watching it of the vast array of Black women's experience that films have not even attempted to depict. This film offers an opportunity to sit deeply with strength and vulnerability that we rarely see and don't think to be curious about--indeed, it is the kind of strength and vulnerability that is too dangerous for an individual woman to show in everyday life even while it powers so much of the best things happening in the world. The film goes deeper in 15 minutes than most full-length films ever attempt to go.
"Ash Land" will air on OSF's digital platform (www.osfashland.org/digital) beginning on Dec. 11. It's worth several viewings--and watch for more digital art commissions from OSF in 2021, and more work from the production company formed to house the collaboration between Ali and Alea, Alialea, which has another film in the works.
Darleen Ortega is a judge on the Oregon Court of Appeals and the first woman of color to serve in that capacity. Her movie and theater review column Opinionated Judge appears regularly in The Portland Observer. Find her review blog at opinionatedjudge.blogspot.com.