Talks Ease Tensions at Red House
Eviction protest continues, but barricades begin to come down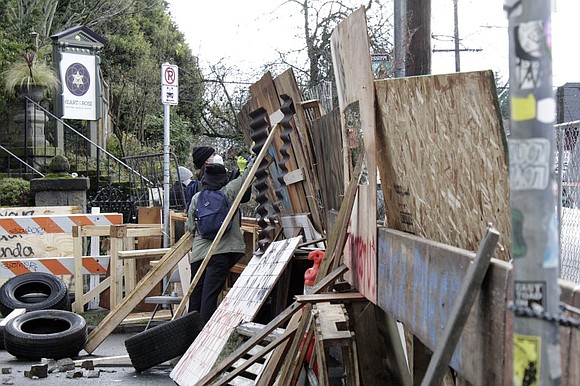 A perimeter of street and sidewalk barricades erected by protesters to oppose the eviction of a long time Black and Indigenous family in the Humboldt neighborhood of north Portland have started to come down as talks to resolve issues between the family, police and local officials continue.
The Portland Police Bureau reported Monday that it worked over the last several days to achieve a peaceful resolution to the circumstances along North Mississippi Avenue, North Albina Avenue, North Prescott Street and the surrounding neighborhood
"The whole situation requires extraordinary patience. Many community members have weighed in and proposed positive solutions," said a statement from the police bureau.
Members of the Kinney family, which lost the "Red House on Mississippi" to foreclosure, allegedly taken through predatory lending practices, said it has begun the process of dismantling a "community eviction blockage" around the site, opening up traffic to flow and commerce.
But the family said it would continue occupying the land around the historic home until a final resolution.
"While our demands have been pushed through at the governmental level and the family's story has reached a global audience, our fight is not over. The Kinney's have not yet secured their home. Developer Roman Ozeruga has yet to initiate any negotiations. The family's cases remain in litigation," a statement from the family on Monday afternoon said.
According to one report, the real estate investor who now owns the red house has offered to sell it back to the former owners. Portland Police Chief Chuck Lovell earlier implored protesters to clear the streets around the home and disarm.
Before dawn three days earlier, Multnomah County sheriff's deputies swooped into the disputed home and arrested several people, mostly for trespassing. Activists, many of whom had participated in Black Lives Matter protests in Portland for months, arrived on the scene and confronted law enforcement officers, who retreated.
Using fencing, lumber and other material, activists erected barricades around the house, located in an area of homes, coffee shops and restaurants in what was historically a Black neighborhood but has become gentrified. Protesters also placed homemade spike strips, piles of rocks and thick bands of plastic wrap stretched at neck-height across the road to keep law enforcement officers out.
Multnomah County District Attorney Mike Schmidt on Friday praised "the neighbors and community members who have supported the Kinney family, but also said neighbors are scared to leave their homes and noted that journalists who went to the scene were allegedly assaulted.
Portland Mayor Ted Wheeler said he did not regret an earlier order authorizing the Portland Police to "use all lawful means to end the illegal occupation" but apologized to the Kinney family for any threats that they received in response to it.