Building Success in Skin Care, Beauty
Consultant achieves top ranking
By Shireen Hasan | 12/23/2020, 12:25 p.m.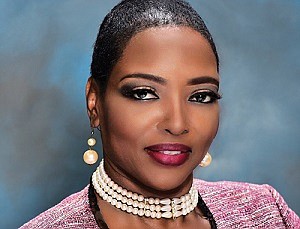 "Wow! "What a huge honor it will be to drive down Portland's streets in a Pink Cadillac," Minister Kim Meyers excitedly exclaimed, as she once again plans on taking the legendary trophy-on-wheels for a spin.
Courtesy of Mary Kay, Inc., the national cosmetic company, Minister Kim will have use of the car as a reward in recognition of her major success as an independent consultant for the company in the skincare and beauty industry, a profession the local African American resident has nurtured over the past 20 years and a prize she has won six times before!
Kim and her team of consultants are credited with grossing over $4.1 million in retail sales due to their hard work and consistent drive. She is currently a Senior Sales Director with Mary Kay with great aspirations to obtain the highest position in the company, National Sales Director.
Born and raised in the Bronx of New York, Minister Kim grew up in a 'single mom' household with a Christ-centered upbringing. She says her mother instilled great values and morals while providing her a very structured childhood environment, with strong connections to family and relatives.
"Mother taught us that extending respect to others, you will get respect in return, and the more you give –the more is given back to you," she said.
A homebody growing up, she once had aspirations of becoming a trial attorney, but instead had a calling to become an entrepreneur.
Entrepreneurship was not a tool used in her house, but she always knew that it was a tool readily available if someone chooses to use it, she said. So, when the opportunity presented itself, and because of the powerful words spoken to her by her husband, which included 'Don't Knock It' 'Until You Try It;' her career decision turned to be a blessing.
Building her own business has boosted her' self confidence. Minister Kim credits adherence to the Golden Rule of "Do onto other as you would have them do unto you" as her central guideline.

What she loves most about her work are the people that she comes in contact and travelling the world. She said the friendships she's made can never be replaced.
She said her lifetime goals are to continue to seek Christ and to be used as a vessel to reach the broken, restore the shattered, and help heal the badgered.
Minister Kim said no success would be possible without God. She gives special credit to her loving children, saying they are the heartbeat that keeps her breathing, and to her 'amazing' husband – for truly being the wind beneath her wings to support her for being herself and who pushed her into becoming an entrepreneur and a 'shero' for many to follow.
"My recommendation would be to always keep an open mind to any opportunities that come your way because it may be just what you need," she said.