Far Better Films than the Oscar Nominated
Alternatives to the more white, more male and less original Academy picks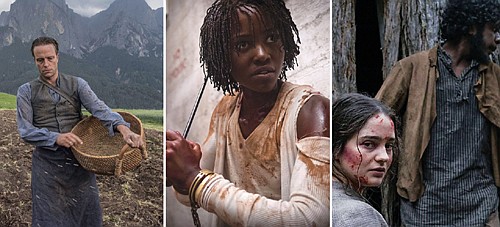 This year's Oscar nominations are more white, more male, less original and less deserving even than usual, with the nihilistic "Joker" and Quentin Tarentino's bit of Hollywood narcissism topping the list of nominees. Still, although Hollywood doesn't celebrate them and often has nothing to do with getting them made or securing them an audience, far better films than those you'll see featured on Oscar night appear on my list of the year's best films. Each of these films goes deep, opens liminal space and expands your seeing. Here are the eleven 2019 films I most heartily recommend:
A Hidden Life
Us
Seahorse
The Nightingale
Fast Color
Peterloo
The Two Popes
Marriage Story
Anateurs
Afterlife
Vai
(1) "A Hidden Life" takes seriously Georg Eliot's observation that "[t]he growing good of the world is partly dependent on unhistoric acts, and that things are not so ill with you and me as they might have been, is half owing to the number who lived faithfully a hidden life, and rest in unvisited tombs." Franz Jägerstätter's is just such a life; a young Austrian farmer, loving husband to wife Fani, and father to three young daughters, he also refused to swear loyalty to Hitler or to fight in the Nazi war effort. Because of his unheralded and quite unusual resistance (he was also the only person in his town to oppose the peaceful annexation of Austria to Nazi Germany), Franz and his family were ostracized, and he was imprisoned and ultimately executed. This stunning film brings this hidden story to light and is, in my estimation, the best film of 2019.
It's not your typical anti-Nazi war movie. The courageous battles here are largely internal; Franz (beautifully played by German actor August Diehl in one of the very best and deepest performances of the year) is a farmer, not a philosopher, and he did not make his case in writing or with a microphone. What we know of his thoughts comes largely from letters exchanged with Fani (also brought beautifully to life by Austrian actress Valerie Pachner in another of the best performances of the year). What comes through is deep love simply expressed and questions held with intention. Unable to excuse or justify what is happening around him, Franz seeks counsel from the church, only to find that the church is in league with the Reich. (I read later that the local priest he visited had replaced another who was ousted for giving an anti-Nazi sermon.) His entreaty to the bishop ("If God gives us free will, we are responsible for what we do [and] what we don't do") is met with an appeal to his supposedly biblical "duty to the fatherland."
This meditative film guides us into the physical and psychic cost of Franz's unheralded stand. Although Franz describes his as "the smallest of crosses" in contrast to what he observes inside a Nazi prison and knows is happening outside, director Terrence Malick in characteristic fashion lingers on the exertion in every movement, the physical diminishment, the burdens Fani carries at home as village children throw dirt at their daughters and she struggles to manage their farm without support even from family members. The expansive beauty and harshness of their mountain community mirrors the scale of the stakes for Franz and Fani, even while they encounter only opposition.