Esteemed Author Speaks Out on Inmate Justice
Says system so flawed prisons should be abolished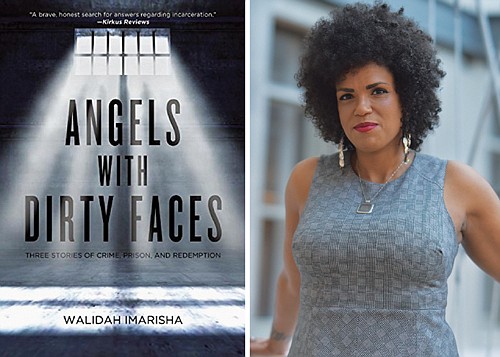 Speaking out and emotionally connecting in personal ways with people of color experiencing the criminal justice system is a passion for Walidah Imarisha, an esteemed Portland author, teacher and scholar from the African American community.
Sharing her thoughts for Black History Month with the Portland Observer, Imarisha explained how cruel and unusual punishment has put too many people in prison.
It's especially true for black people where incarceration rates have historically been three to nine times those of whites, depending upon the decade and region of the country. In Oregon, African Americans, for example, make up 2 percent of the state's population and 10 percent of the inmates in Oregon prisons and jails. And according to a 2016 publication from the Oregon Health Authority, at any single time in the state, there are about 22,200 people in lockup, including 1,800 housed in the federal prison at Sherwood and 550 in youth facilities.
Imarisha said there was a time when she believed that prisons existed to rehabilitate people and make communities safer, but after more than a decade of research and frequent visits with inmates over the years, she is convinced that state and federal penitentiaries do more harm than good.
The first time that she saw a mother sobbing and clutching her incarcerated son when visiting hours were up only to have a guard drag him away, she know nothing about that scene made her feel safe.
"Prisons don't make us safe and should be abolished," she said.
Imarisha blames the "war on drugs," profitable prison building booms of the 1980s and 90s, and mandatory sentencing laws for all contributing to extreme overcrowding in prisons, a result that she says is both cruel and unusual punishment as well as a war on people of color.
On a recent journey to visit with inmates at the Oregon State Penitentiary, she expanded on her views and thoughts, "How do we go about imaging different ways of existing without prisons?" she asked.
The same subject was the topic of her book, "Angels with Dirty Faces: Three Stories of Crime, Prison and Redemption," which won the 2017 Oregon Book award.
"I strongly believe in prison abolition, the idea that prisons make us all less safe, and that there are ways of creating community accountability without relying on police and prisons," she said. "The book focuses on the lives of three people who have dealt with harm, as well as how the prison system itself is harm."
Imarisha does a lot of volunteer educational work in the criminal legal system. She personally reaches out to people currently under lockup, evidenced by her heading to the prison in Salem for a meeting with Uhuru Sasa, a black cultural group for inmates.
"They put on amazing programs and events in prison, and also do incredible work connecting with the community and being a positive force, she said about the organization," she said. "This past summer I facilitated a 10 week cultural workshop to really explore black culture and how it is a positive force in the community, historically and currently."