Esteemed Author Speaks Out on Inmate Justice
Says system so flawed prisons should be abolished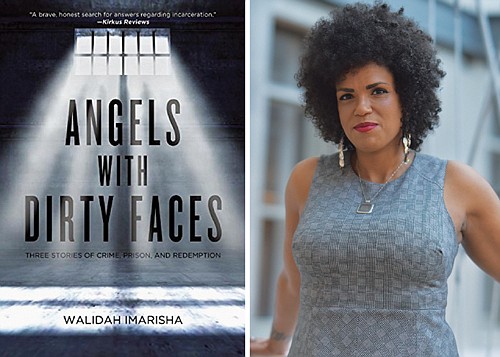 When considering all the communities in Oregon, Imarisha said the people housed in prisons must be counted in as well, because "If you are not talking about the black people who are incarcerated, you are not talking about the entire black community."
She stresses a number of ways to support our incarcerated brothers and sisters.
"There are myriad ways to get involved in prison justice, to connect with organizations doing that work in that area," Imarisha said. "There are prison writing groups, groups working on legislation, and community-based leadership programs, and you can work directly with organizations working in the prisons as well, pending approval. There are many ways to encourage people to do research and connect with organizations doing work they are interested in to support the people inside."
Imarisha teaches creative writing in the masters of fine arts program at Pacific Northwest College of the Arts, as well as conducting community workshops both in the community and at several different state prisons. She has also taught at Stanford University, Portland State University and Oregon State University, and created the Oregon Black History Timeline, available on YouTube, exploring key moments in Oregon black history.
She also co-edited the anthology, "Octavia's Brood: Science Fiction Stories from Social Justice Movements," a collection of 20 short stories and two essays written by organizers, activists and change makers.
Imarisha said one premise behind "Octavia's Brood" was that you need to imagine a just prison system because one doesn't exist.
"So every time we imagine a world without prisons, without borders, without oppression, that's science fiction because we've never seen that world," she said. "But we can't have what we can't imagine, so we absolutely need imaginative spaces like science fiction that allow us to imagine beyond what we're told is possible."
Imarisha also talked about racism in Portland, the whitest major city in America.
"Institutional racism is built in every aspect of society and our lives and the way power functions, and unless folks are committed to keep doing the difficult long term work of uprooting institutional racism, and recognizing the extent of oppression, they aren't committed to making real change," she said.
She was even more pointed in a recent speech at the University of Portland on honor the Martin Luther King Jr. holiday:
"Portland specifically, and Oregon in general, has been incredibly good at marketing itself in a multiplicity of ways as a progressive city, as a liberal city, as a city that cares about diversity and inclusion. How is it possible to be a city that proclaims itself to be the liberal capital of the United States, and be the whitest city in America?" she said, as quoted in the University of Portland student newspaper the Beacon.
"The reality is Portland and Oregon are exactly as they were intended to be: a racist white utopia. That is the foundation of Portland; that is the foundation of Oregon. It was a place where white folks could come and build the sort of idealized white society they had dreamed about."
Imarisha said imagining a better world is the key to making changes to society, whether it's fighting racism or finding a way to live without prisons.
"A lot of my work focuses on 'visionary fiction,' a term I began using to talk about fantastical art that helps us to imagine and then work to build different just futures," Imarisha said, and "Octavia's Brood" was part of that process.