New Chief Fronts Hiring Video
Applicants sought from all backgrounds
2/11/2020, 9:14 a.m.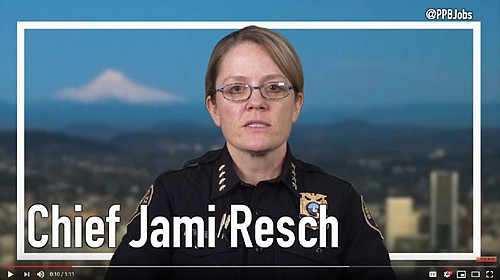 Portland's new police chief is encouraging applicants of all backgrounds and experiences to apply for police work in a new police officer recruitment video.
Resch, who was named police chief last month after former chief Danielle Outlaw resigned to take over the Philadelphia Police Department, talks in the video about how law enforcement has been a great career for her, an occupation she did not think about early in her life.
She said if you or someone you know cares about the community and wants a job that makes a difference, now is the time to apply.
There are currently 104 vacancies in the Portland Police Bureau.
"We need to hire the next generation of Portland Police Officers to join our team to help keep our community safe," Chief Resch said. "We need individuals of all backgrounds to become community police officers; law enforcement experience is not required. This career is rewarding in so many ways and we are excited to hire and train individuals who want to do something that matters. Join us!"
For more information about the job, pay, benefits, and frequently asked questions, visit joinportlandpolice.com.