Housing and a Backup Plan
New housing director advances PCRI mission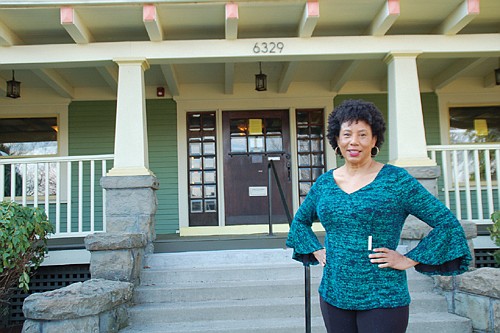 When Kymberly Horner took over as executive director of Portland Community Reinvestment Initiatives this past fall, she vowed to have an impact on Portland's housing crisis and now she is moving forward on the nonprofit's goal to build 1,000 new housing units in the next 10 years.
Called Pathway 1000, the plan was developed by Maxine Fitzpatrick, Horner's predecessor who founded PCRI in 1994. The organization, rooted in Portland's African American community, was formed in direct response to fraudulent real estate contracts that caused many people of color in north and northeast Portland to lose their homes. Thanks to the work of PCRI, many of those homeowners back then had their mortgages rewritten and their homes were saved.
Getting people into their own homes today – whether renting or buying – is the main goal of PCRI. But Horner wants to take it a step farther and make sure people can manage the financials to keep their homes once they acquire them. To that end, she's been working with Dr. Karin Edwards, president of Portland Community College's Cascade campus to come up with a plan for further education.
"One of the things I would like to be doing for residents and new homeowners is making sure they've got economic stability behind them," Horner said. "The minute there's an uptick in downsizing or a recession occurs…there are certain groups of people who are historically displaced."
That includes people of color, women and older people who are "always on the receiving end, and the first ones out the door," she said. "My idea is to work with community college districts to see if we can get folks trained in different career paths so they can have a backup plan."
Horner served previously as executive director of economic development for the city of Oxnard, Calif. but her department was eliminated after California decided to pull redevelopment funds from cities to help balance its budget.
That hurt California, she said, because 20 percent of property tax revenue went toward affordable housing, and now it can't catch up with the demand. But PCRI is working hard to win that battle in Portland and the state of Oregon.
"We are a nonprofit affordable housing entity and we lead in this industry for Portland, especially when you're talking about getting communities of color into affordable housing, PCRI is leading the way," she said. "We sort of set the tone on how affordable housing should be developed in this community."
PCRI builds and manages multi-family properties for rental and buys, develops and sells condos and houses to expand home ownership. Work is almost complete on a 70-unit apartment complex in the 6000 block of Northeast Martin Luther King Boulevard for income-restricted rentals, and over the years the organization has bought hundreds of homes and sold them to low-income residents at below market prices.
Down payment assistance to help future homeowners can come after applicants complete programs that PCRI offers.
"We don't just pick people and put them into homes, we prepare them for home ownership that teaches people how to save and get into home ownership, even if it takes a couple of years," Horner said.