Housing and a Backup Plan
New housing director advances PCRI mission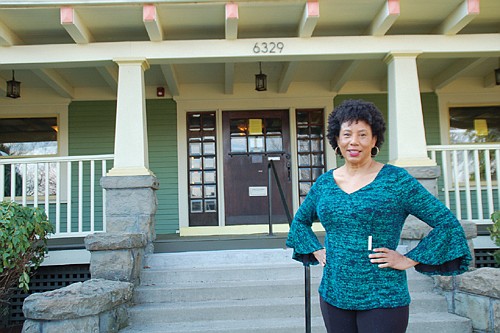 According to its website, PCRI "will preserve and manage affordable, high quality, scattered site, single family homes; expand and manage our portfolio of small multiplexes; and acquire/develop multi-family housing to preserve affordable housing choices in our community."
That overall goal includes Pathway 1000, which will take on new life once Horner hires a new housing director early this year.
"Once that person is hired we will be moving full steam ahead," she said. "We're looking within our portfolio for land that could be used to construct new units."
Horner has 42 employees at present, and though they've almost outgrown their location in a historic house at 6329 N.E. Martin Luther King Blvd., she says they're going to try and stay put.
"We are a landmark and destination place for people of color and those who have had challenges in terms of creating home ownership and home stability," she said. "This is a place where people come and shed their tears over this table and we tell you how to correct your situation and get ready for either home ownership or how to get into our affordable rental projects. It's beautiful."
In addition to overseeing the daily operations of PCRI, which manages over 700 units of affordable housing, Horner now puts renewed emphasis on Pathway 1000, a project with an estimated cost of $250 million that is projected to provide $875 million in economic impact for communities of color and will encourage generational wealth.
Building housing is very expensive because of the high cost of land, she said, pointing to the collaboration and partnerships needed to get it done, along with a lot of creative thinking.
Horner said one new way to add housing stock that's gaining momentum is for homeowners to build ADUs, or additional dwelling units, on their property.
"We're working with Hacienda, another nonprofit housing team, and other nonprofits to build ADUs onto properties, starting with a prototype of 527 square feet, the dollar amount that pencils out to a little more than $100,000 to construct that unit," she said. "But what we're trying to do is get that property owner trained up and in reality being an entrepreneur…we think that individual homeowner will receive about $200 a month income stream."
Portland is way ahead of other communities in battling the housing crisis, Horner said, and one reason is that the city realizes its past mistakes in displacing communities of color in the name of "progress."
"This organization started in 1994 and has been through some very challenging things that happened to the African American community," Horner said. "The city's recognized that and that to me is rare and an oddity, that the city recognizes that displacement, that mistakes have been made, and so they have a commitment to correct that. That's what Pathway 1000 speaks to."
To learn more about PCRI, call 503-288-2923 or log onto pcrihome.org.