Fire Chief on Dr. King's message
Sara Boone embraces roots in journey of discovery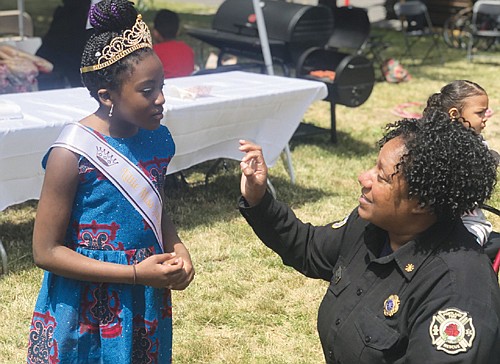 Portland Fire Chief Sara Boone, the first African American to head Portland Fire & Rescue, was born in 1969, a year after Dr. Martin Luther King Jr. was assassinated, but as a young girl and woman she discovered his teachings as she was discovering herself.
"It was self-discovery of what blackness meant," Boone explained. "When you're older, you start reading books on African American history because in the U.S. education system you have many a day of celebration, but African American history is not really celebrated within the history of this country and I think that what I realized growing up was, 'Where do I get my identity? Where are my roots?' "
Boone said government and educational systems "completely eliminate objectifiable truth when it comes to African Americans and every other culture that has also contributed to the founding of this country and where we are today."
Studying great black leaders, like Dr. King, on her own, helped the future Portland leader learn more about her place in the world.
"Whether it was Malcolm X, whether it was Dr. King, or whether it was Barbara Jordan (Texas black activist and politician), whether it was all the great civil right leaders, everybody has a story to tell about what it was like for them and what they were championing," Boone explained in an exclusive interview with the Portland Observer.
It was in college that Boone expanded her reading of Dr. King and other civil rights leaders.
"One of my heroes is Marian Wright Edelman," she said. "She really pours her heart and soul into young kids, and it was her words, 'If you can't see, how can you believe?'" that gave her a lot of inspiration.
Boone said when you have to have kids seeing people just like them, from a diversity of races, taking part in varied occupations and professions, they can dream about their own futures in such lines of work, "So that is one thing that has always stuck with me. Who are your heroes? What is your imagination? What are the possibilities?"
Boone started out to be a teacher, and when she was student-teacher right out of college, it was a chance encounter with a fire inspector that led her to consider working for the fire department. She knew there were few if any people who looked like her in a department that was almost entirely male and white. Advancing diversity in the bureau is now a priority for her.
When she was younger, Boone saw black women become successful in modeling, sports, music and somewhat in politics.
"So I know that is the one thing that I can change at Portland Fire, is that we have to have visual representation, which means we have to be out there in the community.
"I have to be engaged when it comes to, 'Can you see yourself working for Portland Fire?' and not just for the African American community," she said. "Every culture that's out there, every ethnicity that's out there, we do have representation for now, and so I need to be able to message and market that to kids at a younger age. That's why it's so important – so they can see themselves."