'The Two Popes,' a Compelling Drama
Film approaches questions of faith with nuance and respect.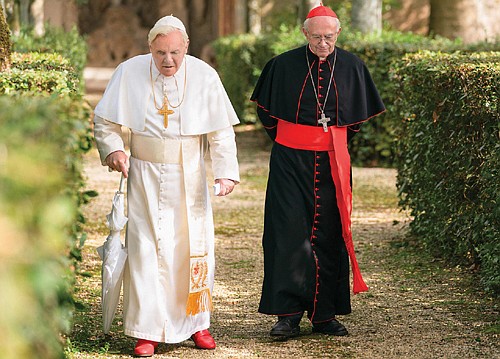 Now that Oscar nominations have been announced, I am preparing by own list of the best films of 2019--and as usual, almost none of my picks are garnering Oscar recognition. "The Two Popes" is one of just two exceptions, with well-deserved nominations for its two lead performances by Jonathan Pryce (for best actor) and Anthony Hopkins (for best supporting actor) and for its wonderful adapted screenplay by Anthony McCarten. Although neither the film itself nor its talented Brazilian director, Fernando Meirelles, are receiving recognition they also deserve, it's one of my favorite films of the year.
Writer McCarten has worked some real magic here, building a surprisingly engaging story around a series of necessarily invented conversations between the current Pope Francis and his immediate predecessor, Pope Benedict XVI, who took the highly unusual step of stepping down from the role in 2013. Nearly every other pope has served until death; why did Benedict, a staunch traditionalist who functioned as a guardian of conservative values, make such a dramatically unusual decision, especially with some likely sense that his polar opposite, Argentine Cardinal Jorge Mario Bergoglio, might well succeed him? Because so much of what happens in the world of the Vatican is shielded from the public view, we will never know for sure--but McCarten has found in this compelling question the basis for a worthy investigation into the state of Catholicism and how two men of integrity might well approach questions of faith, community, and leadership.
It's rare to find a film that approaches questions of faith with such nuance and respect--and that understands the relevance of the examination. Those who are not religious may not immediately be drawn to this material, but the filmmakers help you understand why you should care. In a world so deeply divided on matters of morality and distribution of resources, religion has so often served to deepen those divides, and these two men have, by all accounts, staked out opposite poles. Drawing from abundant sources reflecting the histories, habits, and ideas of the two men, McCarten has imagined--assuming the best of both and according them appropriate respect--how they might converse about their faith, their doubts, and their fundamental disagreements. Like the British royal family, popes are famous and objects of great scrutiny while also being shielded from public scrutiny in other respects--yet, in the tradition of "The Crown," McCarten's imagined conversations convince us that his speculations have captured some of what is more deeply true about the two leaders, even if the specific details are invented.
Pryce portrays Cardinal Bergoglio/Pope Francis as a person of ease, humility and compassion. His instinct is to connect, as he does with the limo driver sent to retrieve him at the Rome airport, the gardener at the pope's summer estate, the young guard at the Vatican. His conversations with Pope Benedict give him pause to reflect on his past, as the younger Bergoglio (beautifully played by Argentine actor Juan Minujín) comes to his sense of calling and, as a young church leader, makes decisions he comes to regret during the time of the Argentine military dictatorship. We gain some perspective on what it means to have, for the first time, a pope from the Americas, a Jesuit, and the first pope from outside Europe since the eighth century.