Expanding Opportunities in Aviation
Program offers free training for young people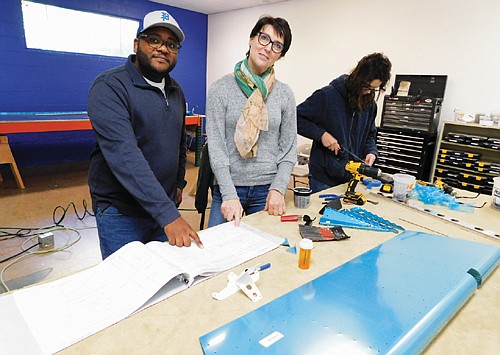 "As Bob Strickland used to say, 'Your attitude determines your altitude,'" she said. "So many young people are reinforced that they can't do certain things. We attempt to deconstruct all of that and teach them that if you can learn to set a course for the Aurora Airport – whether it's on a simulator or in a real airplane – if you can build a drone and fly a drone, if you can build an airplane, then nothing can stop you from realizing your potential."
Learning to build drones and pilot them is a great job opportunity, Cannell said, and the biggest drone companies in the U.S., Northwest UAV, is located in McMinnville.
The ASK building, which the nonprofit has leased for two years and now owns, needs much work to make the space more efficient and useful, Cannell said.
ASK acquired the building, through a loan from a donor, from the Northwest Health Foundation, which bought the building when the Albina Youth school was going defunct, she said.
"They wanted to make sure it stayed in the community and the property did not get redeveloped into high rises, and they deserve a lot of credit."
But a lot of work still needs to be done and ASK is going to kick off a capital campaign soon to remake the school into it a modern educational facility and repay the loan. The building needs to be thoroughly cleaned, old furniture removed, classrooms renovated and much more.
Renovations will probably take a couple of years, Cannell said, and she's hoping to form partnerships with developers and foundations.
"We're hoping to get the community excited because it's right on Mississippi, the heart of the black community," she said. "What better homage to those who came before us to making sure we have a permanent home for our young people to get exposed to STEM and CTE (career and technical education) right there on Mississippi."
ASK is asking for in-kind support from builders and developers in the short term and financial partners for the long term "so we can have something the community is proud of," she said.
"We're hoping to have a community center where people can gather and maybe put affordable housing on top," she said. "And we could have programs downstairs where little black and brown kids are learning how to fly airplanes, how to build drones and really get excited about math and science."
But it can't happen without community support, she said.
"Our program has been going on for almost 30 years and we want to continue for another 30 years," she said. "But in order to do so, it will take the community, the whole community, rallying behind us."
Cannell grew up in north and northeast Portland, she said, and graduated from Benson High School.
"What this is about, to me, is giving back to the community that has given me so much."
A celebration of the work of ASK, "ASK Wings to Soar Celebration," will be held at OMSI, the Oregon Museum of Science and Industry, at 6 p.m. on April 8 for a reception and dinner with a program emceed by current and former students and followed by a dance party.
To learn more about Airway Science for Kids, and to register for the "Ask Wings to Soar Celebration," go to the ASK website at wp1.airwayscience.org.