Kobe's Death Stuns World
Tears shed, joyful times recalled
1/28/2020, 1:40 p.m.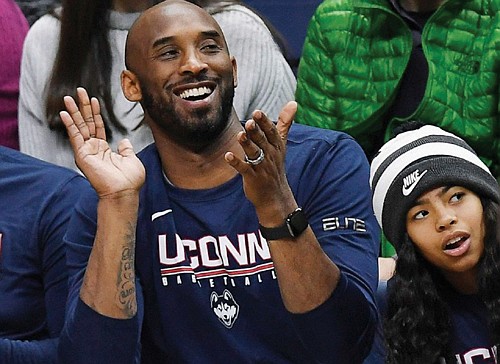 (AP) — Thousands of fans, many wearing Kobe Bryant jerseys and chanting his name, gathered outside the Staples Center in downtown Los Angeles Monday in an outpouring of grief and shock over the sudden loss of the all-time basketball great who spent his entire 20-year career with the Los Angeles Lakers.
The 41-year-old Bryant, who perished Sunday in a helicopter crash with his 13-year-old daughter, Gianna, and seven other people, including members of a family with Oregon ties, was one of the game's most popular players, an 18-time All-Star who helped lead the Lakers to five NBA championships.
The Lakers had a game scheduled Tuesday night against the LA Clippers at the Staples Center but the NBA postponed it "out of respect" for the Lakers. The next Lakers home game is Friday night against Portland.
The accident generated an outpouring of grief and shock around the world.
"Words can't describe the pain I am feeling. I loved Kobe — he was like a little brother to me," retired NBA great Michael Jordan said. "We used to talk often, and I will miss those conversations very much. He was a fierce competitor, one of the greats of the game and a creative force."
Thousands of mourners gathered Monday outside the glistening steel-and-glass edifice of the Staples Center where the Los Angeles Lakers legend made so much basketball history.
"The memories that he gave us as a family were great memories," said Lawrence Perez or North Hollywood, who arrived with his wife, Maureen, and 15-year-old daughter, Desiree. "We could have been at home, but we wanted to be with other people who are kind of going through the same thing."
Bryant retired in 2016 as the third-leading scorer in NBA history, finishing two decades with the Lakers as a prolific shot-maker with a sublime all-around game and a relentless competitive drive. He held that spot in the league scoring ranks until Saturday night, when the Lakers' LeBron James passed him for third place during a game in Philadelphia, Bryant's hometown.
He was the league MVP in 2008 and a two-time NBA scoring champion. He teamed with Shaquille O'Neal in a combustible partnership to lead the Lakers to consecutive NBA titles in 2000, 2001 and 2002. He went on to win two more titles in 2009 and 2010.
His Lakers tenure was marred by scandal when in 2003, Bryant was accused of raping a 19-year-old employee at a Colorado resort. He said the two had consensual sex, and prosecutors later dropped the sexual assault charge at the request of the accuser. The woman filed a civil suit against Bryant that was settled out of court.
Among those killed in the crash were John Altobelli, 56, longtime head coach of Southern California's Orange Coast College baseball team and father of a former University of Oregon student-athlete; his wife, Keri; and daughter, Alyssa, who played on the same basketball team as Bryant's daughter, said Altobelli's brother, Tony, sports information director at the school.
Costa Mesa, Calif. Mayor Katrina Foley tweeted that the dead also included Christina Mauser, a girls basketball coach at a nearby elementary school.