Powerful Screening to Move Body & Heart
Filmed version of Oregon Shakespeare Festival play unmissable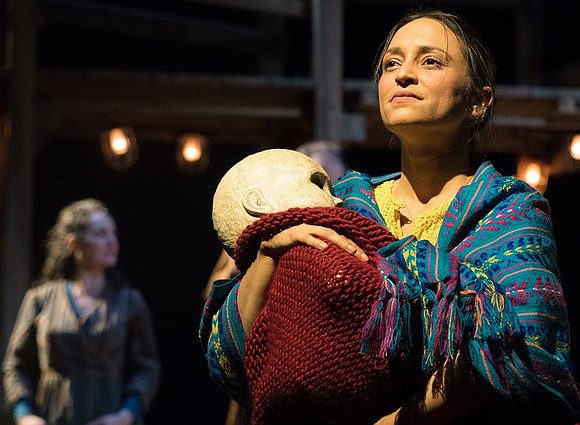 As conceived by Zacarias and staged by director Shariffa Ali, the play is spare and stylized, with each of the actors playing multiple roles and conveying the story's shifts in energy, power, and tone with music and movement. No actual children appear in the play; one important child is fittingly portrayed by a puppet, and the rest are signified by articles of clothing, allowing the actors' engagement with the "children" to capture how dehumanized they were by these events. The play moves through confusion and violence and oppressive acts of heartlessness with a sort of relentless momentum, conveying a sense of how "hurt people hurt people." These forgotten and never-really-understood events become and unimaginably perfect reverberation for endless and continuing acts of systemic racism--in the economic system, the child welfare system, the immigration system, the legal system.
This world-premiere production only played for a few performances before the pandemic forced OSF to close its doors; I was booked to see it myself a few days before it closed. I know that experiencing it live would be a different and deeper experience; the filmed version was originally produced for internal purposes (including use by understudies), not for public consumption, and isn't a complete substitute for being in the room.
But I mean it when I say that the production of this play is truly unmissable--so powerful that it climbs through the screen right into your body and heart. We need this play, right now, and bless these artists and OSF for finding a way for us to experience a sense of what they have created. It screens here through July 15: http://www.osfashland.org/shows-on-o.
Darleen Ortega is a judge on the Oregon Court of Appeals and the first woman of color to serve in that capacity. Her movie and theater review column Opinionated Judge appears regularly in The Portland Observer. Find her review blog at opinionatedjudge.blogspot.com.