Black Leader Hired as Assistant Chief
Mike Leasure earns praise for community engagement
7/15/2020, 4:53 p.m.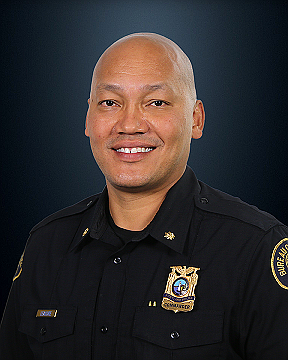 Portland Police Chief Chuck Lovell Wednesday promoted Mike Leasure, a black officer with command experience and a community volunteer who works closely with African American youth, to Assistant Chief of the Police Bureau's Operations Branch.
"Mike is known as a committed, collaborative and progressive leader," said Chief Lovell. "He has dedicated his career to community engagement and has been involved in mentoring and coaching youth and participating in community advisory groups, including the Diversity and Inclusion Council. I am looking forward to having him join our Executive Team with his wealth of experience and relationships in the community."
Leasure currently serves on the Jefferson High School Boys to Men Mentoring program. He has participated in the African-American Advisory Council, the Diversity Inclusion Leadership Council, and as a basketball camp coordinator for the Portland Police Summer Camp. He has been honored with the Achievement Medal from the Community/Police Relations Committee and the George Weatheroy Police Volunteer of the Year award.
Leasure most recently served as commander of the Central Precinct. He began his Portland Police Bureau career in 2000. After serving as a patrol officer and a Parkrose School Resource Officer, he was promoted to sergeant in 2010 and assigned to oversee patrol, as well as the Bike Patrol at Central Precinct. As a sergeant in the Personnel Division, he oversaw development and successful implementation of the diverse officer recruitment and hiring plan, which resulted in a 30% increase in the number of diverse candidates hired by the Police Bureau.
In 2016, he was promoted to lieutenant and assigned to Central Precinct, to the Chief's Office as Adjutant Lieutenant, North Precinct and the Tactical Operations Division. He was promoted to Captain in 2019 and assigned to the Youth Services Division, which was responsible for providing police services to approximately 189 schools and approximately 77,000 students.
Leasure holds a Bachelor of Arts Degree in Sociology and Criminal Justice from Gonzaga University and attended the Organizational Management and Leadership Academy at the Department of Public Safety Standards and Training.