Wall of Moms Enter Fray
Grassroots actions defy Trump; escalate protests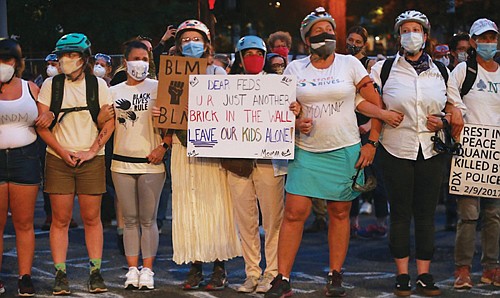 A wall of moms forming a human shield to protect protesters is gaining strength in Portland in response to the show of force from President Trump and his dispatch of a stealthy team of federal police to protect the U.S. Courthouse and other federal property.
The unidentified federal troops, who are dressed in camouflage and who have used unmarked vehicles to grab protestors off the street to make arrests, is cueing up a potential constitutional crisis as the enforcement is being done without the consent of local officials, including Mayor Ted Wheeler and Gov. Kate Brown.
State and local authorities are awaiting a ruling in a lawsuit to put the brakes on the federal response. Oregon Attorney General Ellen Rosenblum said in court papers last week that masked federal officers have arrested people on the street, far from the courthouse, with no probable cause and whisked them away in unmarked cars.
The ACLU of Oregon has also sued in federal court over the agents' presence.
"This is a democracy, not a dictatorship," Gov. Brown, a Democrat, said on Twitter. "We cannot have secret police abducting people in unmarked vehicles. I can't believe I have to say that to the President of the United States."
Multnomah County Commissioner Sharon Meieran says she joined a nonviolent group of protesters called a "Wall of Moms" on Saturday night and was tear-gassed by the federal police officers without warning. She returned to the protests on Sunday night, saying it was necessary to show her opposition to the "federal occupying force."The group of women wearing yellow shirts then grew more pronounced on Sunday and Monday.
Portland has seen nightly unrest since the killing of George Floyd in Minneapolis on Memorial Day. The death of Floyd, a Black man killed when a white police officer pressed his knee into Floyd's neck, have sparked massive protest around the country and a movement pushing for racial justice and changes to policing
Constitutional law experts said the actions of federal officers in Portland are a "red flag" in what could become a test case of states' rights as the Trump administration expands federal policing.
"The idea that there's a threat to a federal courthouse and the federal authorities are going to swoop in and do whatever they want to do without any cooperation and coordination with state and local authorities is extraordinary outside the context of a civil war," said Michael Dorf, a professor of constitutional law at Cornell University.
"It is a standard move of authoritarians to use the pretext of quelling violence to bring in force, thereby prompting a violent response and then bootstrapping the initial use of force in the first place," Dorf said.
The Department of Homeland Security tweeted that federal agents were barricaded in Portland's U.S. courthouse at one point and had lasers pointed at their eyes in an attempt to blind them.
"Portland is rife with violent anarchists assaulting federal officers and federal buildings," the tweet said. "This isn't a peaceful crowd. These are federal crimes."