Herman Cain Dies of COVID-19
Trump Black voices chair attended Tulsa rally
7/30/2020, 10:10 a.m.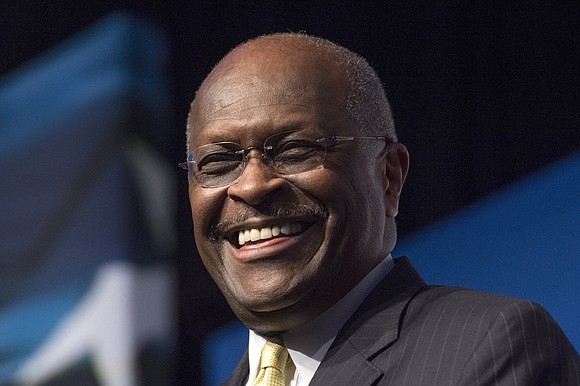 Less than two years later, Cain was diagnosed with late-stage cancer in his colon that had spread to his liver. He recovered and later credited God with persuading him to run for president after Obama, a Democrat, took office in early 2009.
"That's when I prayed and prayed and prayed," Cain told an audience of young Republicans in Atlanta. "And when I finally realized that it was God saying that this is what I needed to do, I was like Moses. 'You've got the wrong man, Lord. Are you sure?'"
Cain projected a self-confident image that at times bordered on arrogance. He referred to himself in the third person, and his motivations speaking company was named T.H.E. New Voice Inc. The acronym stood for The Hermanator Experience.
Cain's run for the presidency was unlikely considering his origins. Born in the segregated South, his father worked three jobs as a janitor, barber and chauffeur, while his mother was a servant. He graduated from Morehouse College, a historically Black college for men in Atlanta, received a master's degree from Purdue University and worked as a civilian mathematician in the U.S. Navy.
While it was a good job, Cain said his ambitions were in the corporate world. He wanted to be president of "something ... somewhere," he later wrote.
He worked first for Coca-Cola, became a vice president with Pillsbury, then was appointed to run its struggling Burger King unit in the Philadelphia area. His success prompted Pillsbury officials to ask Cain to take over its floundering Godfather's Pizza chain. Cain said he returned the franchise to profitability.
The centerpiece of Cain's presidential campaign was his 9-9-9 plan, which would have replaced the current tax code with a 9% tax on personal and corporate income and a 9% national sales tax. Cain said the plan's simplicity would stimulate the economy by giving investors certainty.
"If 10% is good enough for God, 9% ought to be good enough for the federal government," he told crowds.
Numerous Republican politicians, party activists and conservative political commentators mourned Cain's death on social media Thursday.
Romney tweeted, "Saddened that Herman Cain—a formidable champion of business, politics and policy—has lost his battle with Covid. St. Peter will soon hear '999!' Keep up the fight, my friend."
Georgia Republican Gov. Brian Kemp wrote on Twitter that he was "So honored to call @THEHermanCain a friend and supporter. ... Know without a doubt that Herman made a significant and long lasting impact on our state and country."
Cain is survived by his wife, Gloria Etchison, their children and grandchildren.