Until Justice Rolls Down
Portland Urban League addresses police accountability and fight for black lives
Nkenge Harmon Johnson | 6/2/2020, 10:39 a.m.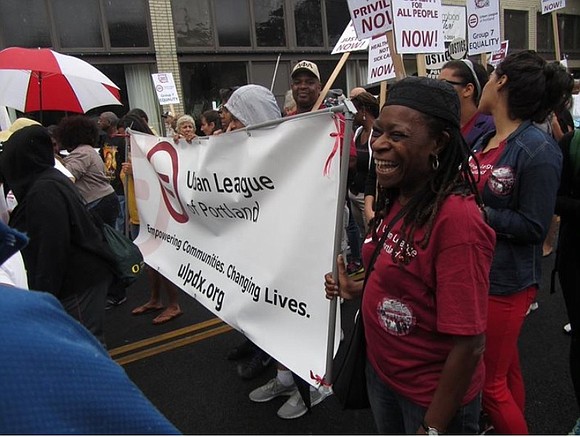 Beloved Community,
Our hearts are broken again. We are angry and we are tired. Like all of you, we are sickened seeing Black people around our nation murdered with impunity at the hands of public employees and vicious racists.
We have seen these brutal killings happen in our own state, when unarmed Black Portlanders Kendra James, Aaron Campbell, and Quanice Hayes were killed by police. We have seen Portland and West Linn police, along with the Multnomah County District Attorney harass, arrest and maliciously prosecute a Black man, Michael Fesser, in retaliation for reporting racist treatment at his job. We have not seen justice for those whose civil rights were denied at the hands of law enforcement agencies here in our community. Despite being under federal oversight for more than a decade because of its history of unwarranted violence, 85% of Black Portlanders say they have seen no change in the way that the community is policed.
There are no words that will make what our community is experiencing easier. Injustice is hard. It is vicious. Injustice is deadly. We are overwhelmed by the injustice of the murders of Ahmaud Arbery, Breonna Taylor, George Floyd, and David McAtee. We are gutted by the images of their deaths. We are saddened to be reminded that even the self-described allies of the Black community are quick to weaponize the state against us when we call on them to change their harmful behaviors. We are angry that Trayvon Martin wasn't the last kid minding his business in his own neighborhood to be hunted and shot dead by a racist neighbor. We are heartbroken that yet another Black woman was shot dead in her home by police who had no legal right to be there. We are nearly numb that nothing has changed since Eric Garner whispered his last words; "I can't breathe." This pain is centuries deep as are the state's wrongs against Black people.
These murders illuminate a harsh reality that the system that is the cornerstone of our democracy, the ideal of justice that is so central to the country that we built, isn't here for us. The system, built with tax dollars, is broken under the weight of its racist ideals, and reform is not happening quickly enough; not in Portland, not in Oregon, not in America.
It has been 29 years since a typical act of violence by the Los Angeles police department against a Black man, Rodney King, was caught on home video and captured national attention. We have time and again experienced the same shock at the crime, hope when perpetrators are arrested, and anguish when they are acquitted and restored to their positions in law enforcement, in a seemingly endless cycle; if the killers are charged at all. We experience the same nausea as the dead are smeared and maligned by wicked attempts to justify their murders.
We who believe in justice tamp down our anger at the same tired excuses of fear and misunderstanding uttered by the powers that be. We squint to see the progress on the arc toward justice. What is justice when a third of Americans killed by strangers each year are killed by police? What is justice when Black young men are 21 times more likely to be killed by police than their white peers? There is no outcry from lawmakers, philanthropic leaders, academia, or corporate chiefs until we take to the streets- yet again- simply to be heard and air our grievance with the civil society and government that we pay for and are told we can trust.