George Floyd mourned in Minneapolis
Leaders gathered call for change to justice system
6/4/2020, 2:36 p.m.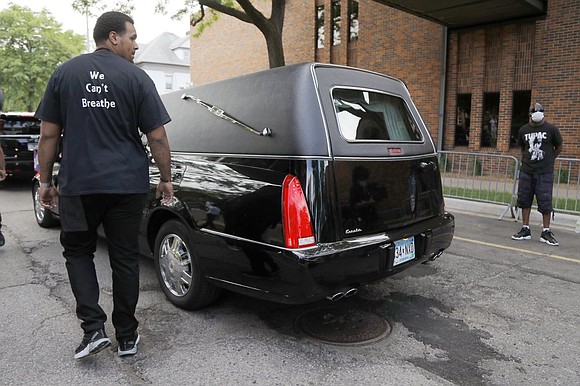 Outside, hundreds chanted Floyd's name as a hearse prepared to carry him away.
After the Minneapolis event, his body will go to Raeford, North Carolina, near where he was born, for a public viewing and private family service on Saturday.
Next, a public viewing will be held Monday in Houston, where he was raised and lived most of his life. Then a 500-person service will take place Tuesday at the Fountain of Praise church.
In the U.S., where protests had been marked by bouts of lawlessness since last week, relative quiet continued for a second straight night Wednesday following a decision by prosecutors to charge the three other officers at the scene and file a new, more serious count of murder against Chauvin.
Meantime, in Georgia, a white father and son charged in another killing of a black man that has raised racial tensions in the U.S. made a court appearance Thursday via video. A state investigator testified that Travis McMichael was heard uttering a racist slur as he stood over the body of Ahmaud Arbery after killing him with three blasts from a pump-action shotgun.
The new charges in Minneapolis punctuated an unprecedented week in recent American history, in which largely peaceful protests took place in communities of all sizes but were rocked by bursts of violence, including deadly attacks on officers, theft, vandalism and arson. In Minneapolis alone, more than 220 buildings were damaged or burned, with damage topping $55 million, city officials said.
Nationwide, more than 10,000 people have been arrested, an Associated Press tally found. More than a dozen deaths have been reported, though the circumstances in many cases are still being sorted out.
Demonstrations have been held around the globe, with protesters focusing on abuses in their own countries.
"It's a solidarity question. We stand with our brothers, internationally, our sisters as well, but the same thing is happening here. It's no different," Isaak Kabenge said in Stockholm.