New Police Chief Named to Build Trust
Chuck Lovell rises to the top of command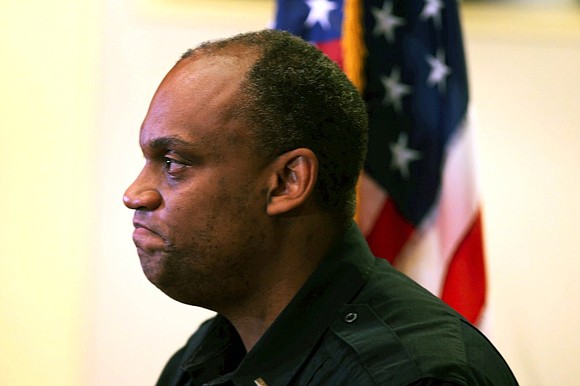 A black Portland police lieutenant and former resource officer at Jefferson High School who earned praise for building bridges in the black community during his tenure at the school, was suddenly named Portland's new police chief on Monday.
Chuck Lovell, an 18-year-veteran of the Police Bureau, replaces Chief Jami Resch who announced at a news conference that she was stopping aside from the top command position in favor of Lovell, saying he was the better person to build community trust as chief because of his record of success building ties with the black community.
The promotion was endorsed by Mayor Ted Wheeler and followed 11 days of massive protests in the city calling for police reforms to end of racial discrimination against African Americans sparked by the police custody killing of George Floyd, a black man in Minneapolis, and other killings of black Americans by police officers in Portland and across the nation.
The shakeup also comes as Portland police have been sharply criticized for using what some people called inappropriate force against some protesters. It also follows a complaint over the lack of diversity in the Police Bureau's leadership ranks.
Three African American groups wrote a letter over the weekend saying the city's commitment to diversity "rings loud, hallow and tone deaf" considering an "all-white leadership team" under Resch. According to the Oregonian, the letter was signed by leaders from Black Male Achievement, Word is Bond and the Coalition of Black Men.
During the news conference, Wheeler agreed the bureau hasn't done enough to support people of color for promotions and succession to leadership positions. Lovell said that his appointment was completely unexpected and he's going to care about the community.
Lovell, 46, a native of Brooklyn, N.Y., and a former member of the U.S. Air Force, served as a school resource officer in Portland from 2007 to 2011 and rose to the rank of lieutenant. He served as an executive assistant to Outlaw during her tenure as chief and for Resch he oversaw a new community outreach division.
Lovell was able to gain the trust of students at Jefferson by dealing with problems with compassion and a steady level-headedness, according to Antoinette Edwards, who recently retired as director of the city's Office of Youth Violence and Prevention.
"He has real humanity," she told the Oregonian.
Daryl Turner, the black president of the Portland Police Association, released a statement saying he looks forward to working with Lovell as the bureau "heads into a new era in policing and continues to evolve and grow along with the needs of the diverse community we protect and serve."
Resch, a police officer for 20 years in Portland, had been chief for just six months. She plans to stay employed with the bureau. In December she replaced former Portland Police Chief Daniel Outlaw, the city's first black female police chief, after Outlaw moved to take command of the police department in Philadelphia.