Candidate Takes Aim at Incumbent Blumenauer
Says 24 years in office is enough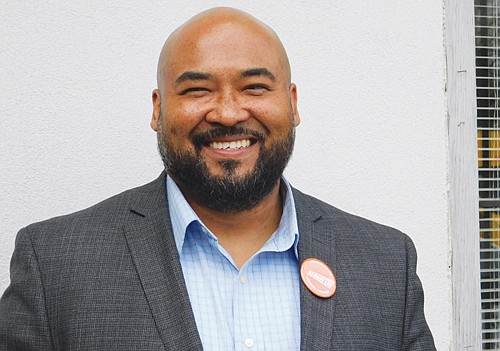 Albert Lee, an active member of Portland's African American community and a former college dean, is running for Congress in Oregon's Third Congressional District by challenging longtime incumbent Earl Blumenauer for the Democratic Party nomination.
Lee said he resigned his employment as head of the business and computing division at Portland Community College's Sylvania campus to have the time to mount a serious campaign for the May Primary race. In an interview with the Portland Observer, he called out Blumenauer for being in the job for too long and accused him of being an ineffective representative for the people of Portland and Multnomah County which comprise the district.
Lee said climate change, was one example, citing Blumenauer as a hypocrite for being a supporter of the Green New Deal promoting green jobs for the disadvantaged and preserving natural resources, but having a large, personal financial stake in the fossil fuel industry.
"Many look at him as a climate change champion, but he owns millions in fossil fuel stocks, particularly with Northwest Natural Gas," Lee said. "You can't, on one hand, say you're a proponent for the climate but on the other hand, are really profiting on extractive resources – fossil fuels – and what I see as lip service progressivism."
Blumenauer's financial disclosure report for the clerk of the House of Representatives lists assets of between $1-5 million of common stock of Northwest Natural and between $100,000 and $250,000 in retirement dividends. Blumenauer's wife, Margaret Kirkpatrick, is senior vice president and general counsel for Northwest Natural.
Lee says that although Blumenauer claims to be against Citizens United, the Supreme Court case that gave corporations more political power by lifting restrictions on campaign donations, about 65 percent of his funding comes from corporations.
"It's lip-service progressivism, telling you what you want to hear, but he's doing the exact opposite," Lee said.
The candidate also takes issue with Blumenauer's reputation as a strong liberal by pointing out his vote to support the 1996 Defense of Marriage Act that said marriage could only be between a man and a woman. Blumenauer has said in the past he long regretted the vote, calling it a compromise with Republicans and one of his biggest mistakes in Congress. The law was found unconstitutional and repealed in 2013. Since then, Blumenauer has been a consistent supporter of LGBTQ rights.
Lee also objects to Blumenauer's support of the Fosta-Sesta Act, which was intended to protect sex trafficking victims. But Lee says the 2019 bill actually pushed sex work and child trafficking on the Internet further underground and made the crimes harder to detect.
Lee faults Blumenaur's rising net worth since taking office 24 years ago as making him out of touch with his constituents. The incumbent reported assets with the House clerk at just over $500,000 in 1996, but according to an article last fall from USA Today, Blumenauer's current net worth is approximately $4.5 million.
"When I look at the last 24 years, a lot of us are hurting in a situation with vast wealth disparity," Lee said. "It only takes on car accident or one medical bill to lead to an eviction, and folks can find themselves homeless."